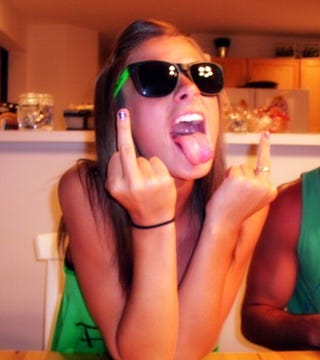 An Idiot on the Field might have made history for being the drunkest Idiot ever recorded as she allegedly tried to jump onto the field during Saturday's Northern Illinois-Iowa game in Iowa City.
From the University of Iowa Police report:
Goudie, Samantha Lynne, 22 of Iowa City, IA for Public Intox at Kinnick Stadium at 1321 hours. Goudie was stopped for trying to enter the field. Goudie was unsteady on her feet. Goudie blew .341 PBT.
Yeah, that says a .341. "Unsteady on her feet" seems like a ridiculously nice way of saying Goudie was unfathomably shithoused.
[Update: We've got her mug shot.]