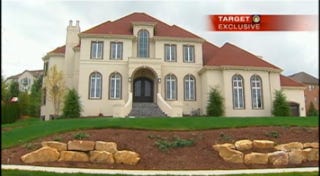 Todd Haley's return to his hometown to work as the Steelers' offensive coordinator continues to be far more entertaining off the field than on it. Pittsburgh television station WPXI was first to report that Haley and his wife were sued by a luxury home builder who claims they walked away from a rent-to-own agreement on a suburban home and then trashed the shit out of the property. And there are pictures!
The 46-page lawsuit, which can be read in its entirety below, was filed in August by builder Williamson and and Jefferson. It accuses Todd and Chrissy Haley of reneging on a written agreement to purchase a $1.4 million home they rented last August within 45 days after closing on the sale of a home they owned in Mission Hills, Kan., which is where they lived when Haley was the head coach of the Chiefs. The lease called for the Haleys to rent the suburban Pittsburgh house for 12 months, as is standard, for $6,000 a month. But according to the suit, the Haleys never disclosed to the builder that they sold the Kansas home in March, as required by their purchase agreement. Rather, in June, they requested an extension on their Pittsburgh-area lease, "ostensibly to take advantage of their luxurious accommodations in Upper St. Clair without actually having to purchase the property." The Haleys cited spiders as an excuse. But more on that in a bit.
When Williamson and Jefferson refused to extend the lease, the suit claims, the Haleys stripped the home of "all manner of built-in fixtures, appliances and other improvements," taking those items, and causing all sorts of damage as a result.
A copy of the lease agreement is included in the lawsuit. While the lease says a stove, refrigerator, dishwasher, garbage disposal, microwave, and air conditioning would be provided by the landlord, it also says "any changes or improvements made will belong to the landlord." And here's a list of what the suit says the Haleys took with them:
• Plants, trees, shrubs, and other landscaping
• Toilets
• Bathtubs
• Water heaters
• Kitchen cooktop
• Kitchen countertop
• Dishwashers
• Built-in microwave ovens
• Built-in outdoor gas grill
• Light fixtures and other electrical fixtures
• Cabinetry and hardware
• Faucets and other plumbing fixtures
• Stereo speakers and equipment
• Dozens of miscellaneous appliances and other items
(Now, considering the Haleys were known to be living in a nearby hotel as recently as early September, when this other famous off-field episode happened, it must be asked: What did they do with all that crap?)