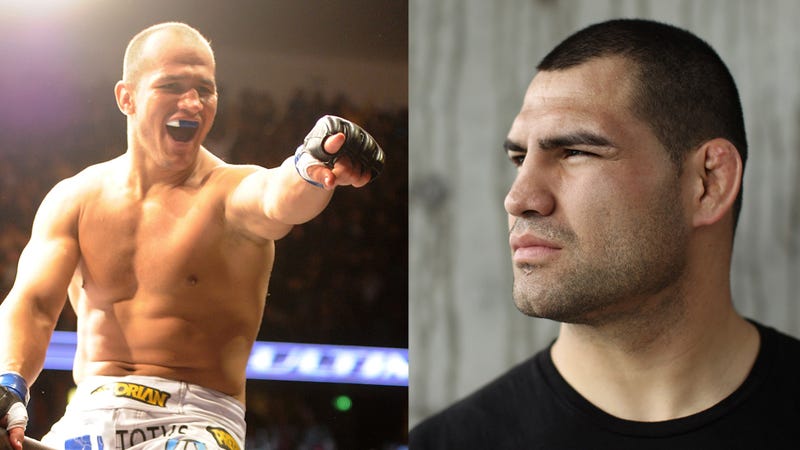 Cain Velasquez, the best heavyweight in the world, is nearly unique among top fighters in that he's terrifying: patient, methodical, and utterly dead-eyed. He fights like a man with no imagination, for whom nothing exists but the logic of his situation and autonomic response. It's unnerving to watch.
This mostly has to do with his style. Even great fighters tend to work mainly off of one technique, like a counterpunch or a double-leg takedown, and constantly try to narrow down the fight in ways that will allow them to use it. Velasquez certainly has his preferred techniques—a variety of freestyle takedowns and boxing combinations, mainly—but he's unusual in that his approach is almost entirely about pace and pressure. It's the logical extension of his wrestling background.
A lot of what makes his rivalry with Junior dos Santos, the second-best heavyweight in the world, so compelling is that dos Santos's style is the precise opposite of this. He's fundamentally a boxer, and he fights as if every moment is potentially decisive. Everything he does, a lot of it defensive, builds in theory to one sequence where he hits his opponent in the right place at the right time.
Velasquez's style implies a view of a fight as a process, in which constant forward motion is almost its own reward, and where a finish, if it comes, flows out of that. Dos Santos's fights are about series of distinct events, the transitions between them, and timing out the moment when everything comes together. It's a serious difference.
The thing of it, too, is that each man has defeated the other quite decisively. Two years ago, dos Santos won the title by knocking out Velasquez in just over a minute with a perfectly timed overhand right and some follow through; last December, Velasquez won it back by laying one of the most drawn-out beatings ever seen in a title fight on dos Santos. This weekend they rematch yet again, and it's fine, and we'll hope for more to come. Each of these two, after all, is the other's only worthy rival.
---
There's supposed to be a certain narrative arc to a trilogy of fights, with the third and final one as a decisive culmination where we learn who the better man (or at least what the better style) is, or see the arrogant man humbled, or the young fighter finally surpass the old one, or whatever.
The Velasquez-dos Santos rivalry isn't quite so neat, partly because there's no contrived mutual antagonism in it at all—both men are quiet and blandly likable to a fault—and also because their first fight, the foundation of the trilogy, is heavily caveated: Each went into it injured badly enough that it likely would have been rescheduled if it had just been another title bout, rather than their promoter's first presentation on a broadcast network.
Velasquez had torn both a rotator cuff and an ACL, the latter being especially bad for a wrestler since that ligament is what keeps the knee stable when planting and driving, the basic motion inherent in a takedown. Essentially, his knee was going to collapse under the force of his ordinary techniques, and there was nothing he could do about it.
Dos Santos, meanwhile, was fighting with a torn meniscus that had him unable to do serious cardio training in the last week and a half or so of camp. Stamina actually goes a lot more quickly than you'd think, and while even in the best conditions he wasn't going to be able to match Velasquez's pace, the injury made a first-round knockout basically the only way he could win.
Anyway, you don't have to know a lot about fighting to see that both men were off here. Velasquez, even when he caught a kick from dos Santos and had him off balance, simply couldn't drive forward the way he normally would; dos Santos, meanwhile, was kind of slow and awkward. The shot that more or less finished the fight was pretty, but it was the kind Velasquez would normally never be in front of.
This is basically what dos Santos does, though: He moves in and out of range, works simple head/body combinations, and looks for spots in which to throw an enormously forceful overhand right that maybe two or three top heavyweights could take flush without dropping instantly. You can discount the outcome (I would!), but it wasn't a fluke.
After winning the title, dos Santos did what he was expected to do, taking some time off and then bludgeoning Frank Mir, a former champion who isn't really near his class. Velasquez was more of an open question. After all, injury or not, he'd been knocked out (in front of the largest American audience ever to watch a fight, no less), and there's a long list of fighters who've come back from being finished for the first time more hesitant, more tentative, or just more easily laid out by a good cross.
In his first fight back, though, Velasquez not only showed no sign of having changed at all, but made his opponent—Antonio Silva, who's very good—look like a competitor in a different, lesser sport. Within 10 seconds he'd caught Silva's foot and put him on his back, and from then on it was basically an exhibition, with Velasquez pinning the much larger Silva down with his hips and dropping short elbows that had him practically bleeding out about a minute in. It was horrific, all the more so because it was so clinical; with Silva helpless, Velasquez was changing speeds, angles, and distances on his strikes like an ace pitcher clipping the edges of the strike zone. The precisely calibrated ground shots that mercifully ended it three and a half minutes in wasted no energy at all; if he'd had to, Velasquez could have kept them going all night. It was the perfect outcome for him, a finish that came naturally as he did what he does.
---
Going into their rematch late last year, with both men injury-free and in presumably good psychological condition, there were no real mysteries about what either was going to try to do. That made Velasquez the inside-fights favorite despite his previous defeat, on the reasonable premise that he had more ways to control the bout—wrestling, pace, stamina—and showed off one of the fine ironies of a sport that's often—sometimes rightly!—written off as impossibly stupid. To a far greater degree than the average baseball or football fan, fight fans appreciate the difference between process and results; that dos Santos had actually won the first time didn't, on its own, count for much at all.