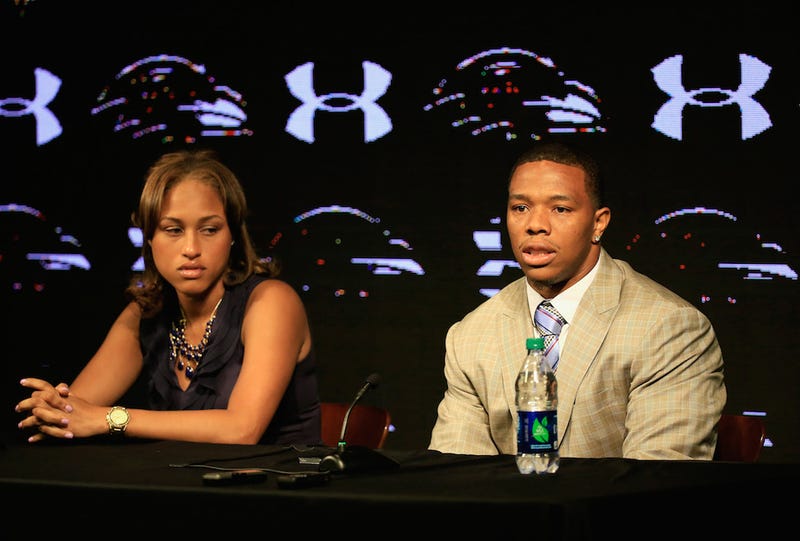 A week ago, we got news that the NFL had suspended Baltimore Ravens running back Ray Rice two games for the events of Feb. 15, when he allegedly knocked then-fiancée Janay Palmer unconscious in an Atlantic City casino elevator. The punishment fell well outside the usual disciplinary regime of commissioner Roger Goodell. As a confused friend of Deadspin put it in an email:
We know Goodell's all about a) consolidating power; and b) cadging for good PR. A small Rice suspension does neither and in fact chips away at both.
A week later, this is still a mystery. Why would Goodell—an authoritarian who loves to both wield the hammer and pander to a certain kind of right-thinking sentiment among the public—suddenly go soft on Ray Rice? Or, to put it another way: How the fuck was an NFL player who got caught on video dragging his unconscious fiancée out of an elevator suspended only two games?
The likeliest answer, the one most consistent both with the sketchy public record and the insinuations of mealy-mouthed NFL reporters, is that the league reads the incident in a way it wouldn't quite want to defend outright. According to this theory, Goodell doesn't see Rice as being entirely culpable, but rather as having responded to physical attacks on his person. Elements of provocation, one might call them.
Let's start with what we know:
On Feb. 15, at around 2:50 a.m., Rice and Palmer got into a fight in an elevator in Atlantic City's Revel Casino. Security called police, who rolled back the surveillance tape and saw that the couple had "struck each other with their hands." Shortly thereafter, both were arrested and charged with simple assault, suggesting that the cops believed them to be equally responsible. The two refused medical attention, according to the Baltimore Sun, and neither reported any injuries. The Sun also spoke with Rice's attorney, Andrew Alperstein, who said the fight was a "very minor physical altercation" and "little more than a misunderstanding." Early word around the Revel indicated otherwise, though at this point no one in any official capacity was reporting that Palmer had been knocked unconscious. The two were released and allowed to leave together, according to the Ravens' vice president of public and community relations, Kevin Byrne.
On Feb. 19, TMZ published security-cam footage of the aftermath of the incident. Rice can be seen dragging an unconscious Palmer from an elevator. No footage of the fight itself was made public; from various reports, though, we know such video exists. New Jersey prosecutors reviewed the case for weeks before presenting it to a grand jury, which in March cranked up the charge against Rice to third-degree aggravated assault, a felony. As one Atlantic City criminal defense expert, Joseph A. Levin, told the Baltimore Sun, third-degree aggravated assault requires "significant bodily injury." A loss of consciousness would qualify as such. Significantly, the charge against Palmer was dropped.
One March 28, a day after the indictment was announced, Rice and Palmer were married. On May 20, it was reported that Rice had entered a diversionary program that would let him avoid trial and perhaps clear the assault charge off his record. From the Sun:
Rice's attorney, Michael Diamondstein, said he will participate in the pre-trial intervention program for the next year, and must stay out of trouble and continue to receive family counseling with his wife. She wrote a letter to the court in support of him.
We know a great deal less about the NFL's investigation. We know that NFL got its hands on the full elevator tape. (Sports Illustrated's Peter King confirmed this in a recent mailbag.) And we know that on June 16, Rice and Palmer met with Goodell in his office. Ravens GM Ozzie Newsome, team president Dick Cass, NFL counsel Jeff Pash, and NFL senior vice president of labor policy and government affairs Adolpho Birch were also in the room. It was here, during a plea for leniency on her husband's behalf, that Palmer made "a very strong impression" and "portrayed herself well," in ESPN NFL reporter Chris Mortensen's approving words.