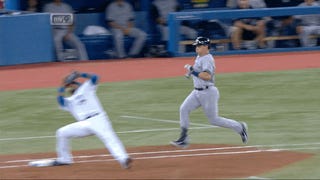 A hurried Jose Reyes throw in the seventh inning crossed up Edwin Encarnación and sent him tumbling backward into the basepath just as Mark Teixeira was chugging in to beat the throw. The two men collided and Teixeira's elbow/shoulder hit Encarnación just about as flush as it gets, right in the back of the head. As Michael Kay said on the My9 broadcast, it looks like he got some kind of whiplash effect, too.
Encarnación was clearly dazed and remained on the ground for some time, wincing and rubbing his temples, but he eventually got up and was allowed to stay in the game. Here again we will echo Michael Kay and wonder for what possible reason was he kept in the game?
Encarnación came up in the eighth inning and still seemed foggy. Sure, it could be coincidence, but he was very likely concussed on the collision with Teixeira and remained in the game and, one inning later, lost track of his own batting count and did not realize he earned a walk.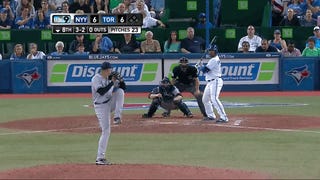 In 2011, MLB and the MLBPA agreed to concussion protocols in the event that a player suffers a potential concussion on the field, but not much is known about what those protocols actually are. We do know the press release at least said new protocols for evaluating players in-game would be implemented.