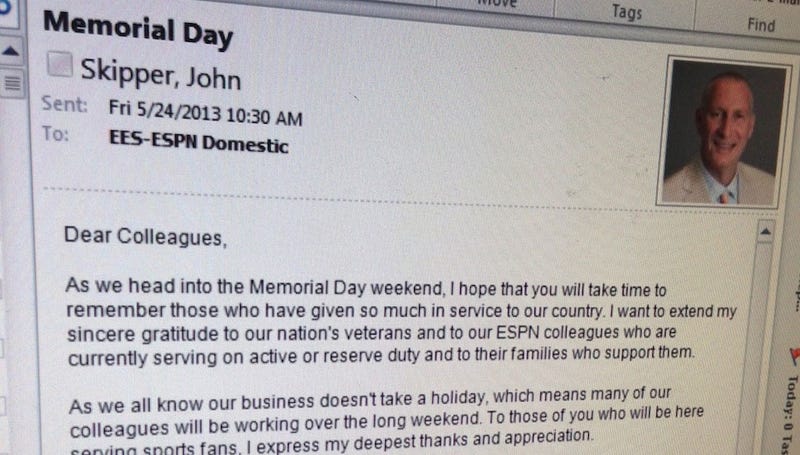 Below is a memo from ESPN president John Skipper, sent companywide just before the Memorial Day weekend and forwarded to us by a Bristol tipster. "This is the only communication we've received from upper management this week that mentions the layoffs," our tipster writes. Happy Memorial Day!
Skipper writes:
Dear Colleagues,

As we head into the Memorial Day weekend, I hope that you will take time to remember those who have given so much in service to our country. I want to extend my sincere gratitude to our nation's veterans and to our ESPN colleagues who are currently serving on active or reserve duty and to their families who support them.

As we all know our business doesn't take a holiday, which means many of our colleagues will be working over the long weekend. To those of you who will be here serving sports fans, I express my deepest thanks and appreciation.

I also want to acknowledge our restructuring and the impact of that on some of our colleagues. Any decision to reduce staff is not an easy one nor is it something we take lightly. We have taken steps to ensure affected employees are treated with respect and appreciation for the contributions they have made to this company. Through notice, severance, advice on other job opportunities in the company and continuing contact with HR, we are working to support their transition forward. We, of course, remain focused on future growth for ESPN and will continue our work with all of you to achieve that. We ask anyone with questions or concerns to please talk with your HR business partner or manager.

Thank you.

John
Well, actually there was another note. On Tuesday, eight minutes after we posted our story confirming that layoffs were coming to ESPN, Skipper posted the below on the company's intranet.