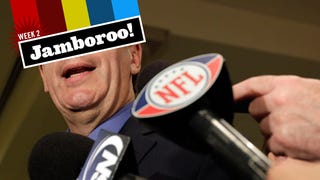 Drew Magary's Thursday Afternoon NFL Dick Joke Jamboroo runs every Thursday during the NFL season. Email Drew here.
I worked at a bunch of ad agencies when I was in my 20s, and if you've ever worked at an ad agency, you know that the most important product that an ad agency sells is itself. Every agency I worked at spared no expense when it came to building websites and paying award submission fees and producing awesome business cards that were personally branded by a cattle rancher in Wyoming (because we took branding seriously). Award shows had entire categories dedicated to agency self-branding. Creative people were often pulled into long meetings to come up with placard headlines for industry banquets and shit. And those campaigns were always fun to work on, because you weren't encumbered by some moron client who had shitty ideas. You got to be your own client. You got to present your best self to the room.
That was 10 years ago. Since then, presenting your best self to the room has become the dominant American industry.
You already know what a fucking disaster the whole Ray Rice scandal has been for the NFL. One of the reasons it's been a disaster is because the NFL—like many large, slovenly entities—has become an organization that is primarily dedicated to its own PR, rather than the product it puts out on the field. The game of football itself is malleable in the NFL's hands. Challenge systems are added. New PATs are tinkered with. Certain rules get enforced or ignored. The game has been molded over the years into whatever the NFL needs it to be at the time. It used to be a celebration of violence. Now it's basketball. The game—and all of its related events both on and off the field—gets fed into a PR machine and shit back out.
This isn't unique among companies, or even people in general. Thanks to social media, everyone can have a public face now, and that public face has to be managed. I have a public face. I have a Twitter feed and I sit there trying to think of clever shit that will make me look AWESOME because making myself look awesome presumably leads me to riches and yachts and brony parties. And if that part of your life grows large enough, pretty much everything you do is for performance, and your humanity ends up dissolving in the process. Check Darren Rovell's feed for the most extreme example of this. At some point, everything you do is for PR purposes—either your own, or those of some master you are compelled to serve.
Not that this is so different from any other time, but we live in an age where very important people are making very important decisions strictly based on how that decision will LOOK. Presidents abstain from making key policy decisions because of how they might look. News organizations bury corrections quickly because of how those errors will look. Pizzas are coming to life just to say sorry to everyone. And the NFL essentially banned Ray Rice for life because they wanted to look active and thoughtful even though it was far too late. You and I know that Rice would still have a career if the league had simply suspended him for a year right off the bat, because that would have looked better. You make the call based on how it looks, and then people judge whether or not you looked good making it, and then you adjust for optimum good looks. Everything gets clouded in a fog of optics ("optics" copyright 2014 by Tommy Craggs), while reality lurks out of view.
When Roger Goodell amped up the league's domestic violence policy in the wake of the Rice furor, this is what he said:
Much of the criticism stemmed from a fundamental recognition that the NFL is a leader, that we do stand for important values, and that we can project those values in ways that have a positive impact beyond professional football.
Does this sound like a man who has any internal, personal integrity? Fuck and no. This is a man who is openly announcing he's trying to make the NFL look good. And what's telling here is that Goodell cannot see how transparent this is. This is strong leadership to him. He has bought into his own delusion of the NFL being America's moral compass. Why anyone would want or need values from watching a fucking football game is beyond me, but that's where Roger Goodell has taken the sport … to a land of superficial authority and telegraphed values. When he spoke with CBS news about why the NFL didn't do more to get the original Rice tape, Goodell said this:
We are particularly reliant on law enforcement. That is the most reliable. That is the most credible. We don't seek to get that information from sources that are not credible.
This Goodell basically saying, Oh, we have too much dignity to trust anyone other than our upstanding folks in law enforcement. Not only is it a lie, but it's also blatant pandering. It is laziness spun as integrity. In Goodell's hand, football can't just be football. It has to look like some shining beacon of AMERICA or something, even though that's batshit crazy. And Goodell's bosses approve of this strategy. Listen to them of them lament the whole disaster to Peter King:
"I am starting to get a sick feeling about how out of control this is getting"
This guy doesn't give a fuck about the actual problem of domestic violence. He's lamenting they couldn't keep control of the narrative. He's pissed that all this looks bad, not that is IS bad.
This is what happens when you make every single decision based upon public perception: The image of you becomes the focal point, and not the person therein. When Peter King issued his weird mea culpa for his lax reporting on the Rice scandal, he phrased it just like a press release. See for yourself. That's the kind of public statement a celebrity issues after saying something racist. It's certainly not any kind of formal reporting. Is Peter King even a reporter? Or is he just a quasi-famous coffee enthusiast and PR dumpster? I can't tell. I can't tell much of anything anymore because every sports league and every TV network and every new album release is strategized to within an inch of its life.
At the Super Bowl in January, I went to the Bud Light boat party, which was not actually on a boat. It LOOKED like an event. There were spotlights and pretty girls and famous people tucked away behind a curtain. You had to go through thousands of checkpoints to get to the party, every one of them festooned with branded signage. And after all that waiting and walking and anticipation, I was greeted with a makeshift ballroom that was largely empty inside, like I had just traveled through the vein of a corpse to find its heart missing. That's kinda what it's like to hear Roger Goodell talk. It sounds very strong and noble and then you look closer and there's fucking nothing there. That's what happens in a 24/7 PR universe. That's how punching a woman in the face gets buried under a mountain of horseshit.