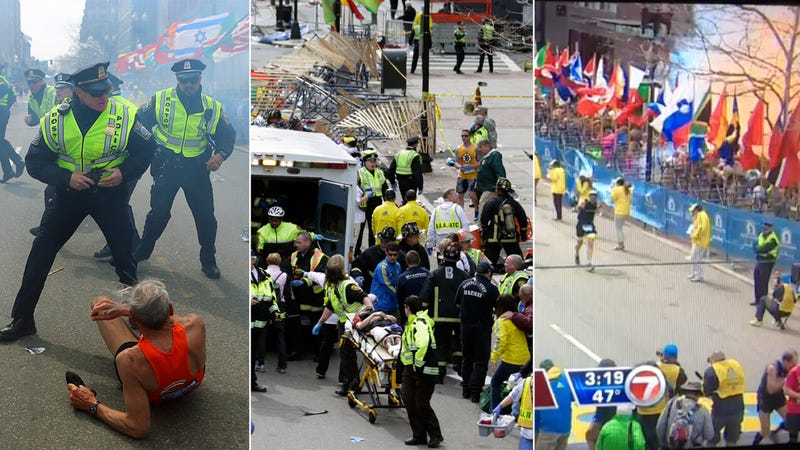 Minutes after two bombs exploded near the finish line of the Boston Marathon at 2:50 p.m., reports started rolling in. We began this post soon after, with chronological updates continuing through the evening. Some photos might be graphic.
This photo, showing the immediate aftermath, is from Twitter user @theoriginalwak.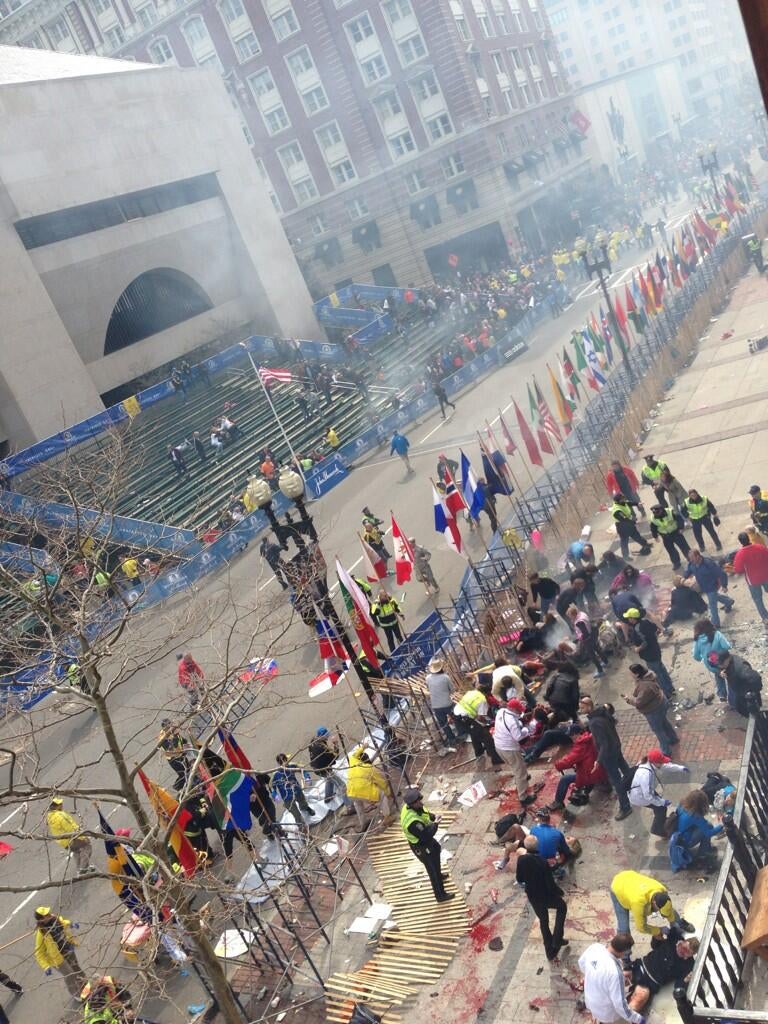 BREAKING NEWS: Two powerful explosions detonated in quick succession right next to the Boston Marathon finsh line this afternoon.

— Boston Globe News (@GlobeMetro) April 15, 2013
A Boston Globe staffer says dozens have been injured. The media hotel is on lockdown.
Photo from Twitter user @Boston_to_a_T: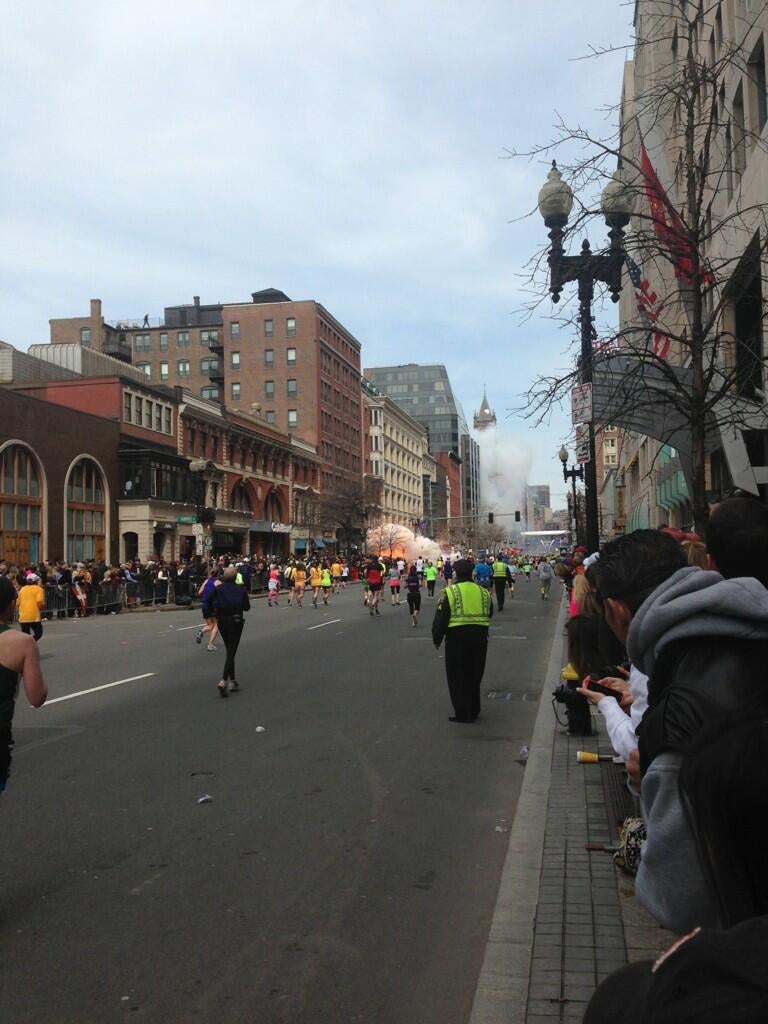 CBS Boston has live video of the finish line area. And here's the Boston EMS live feed.
Some of CBS Boston's coverage of the aftermath: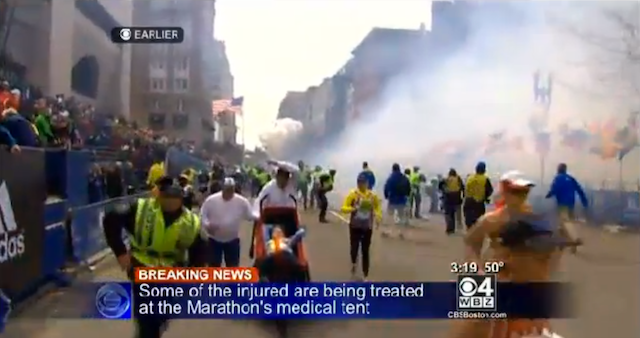 (Video removed by request of CBS. View it here.)
Another photo, from a Globe Staffer on the scene: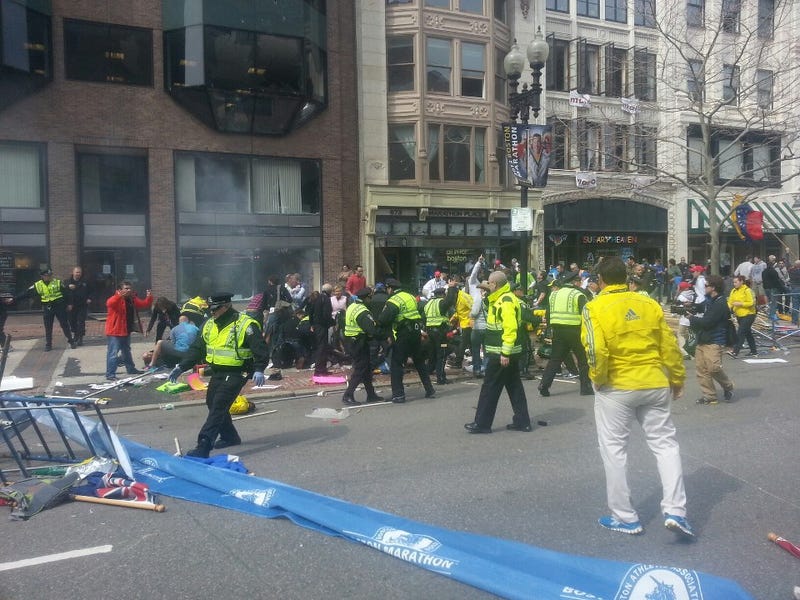 Victims with lost limbs wheeled from scene. #wcvb

— Sean Kelly (@SeanKellyTV) April 15, 2013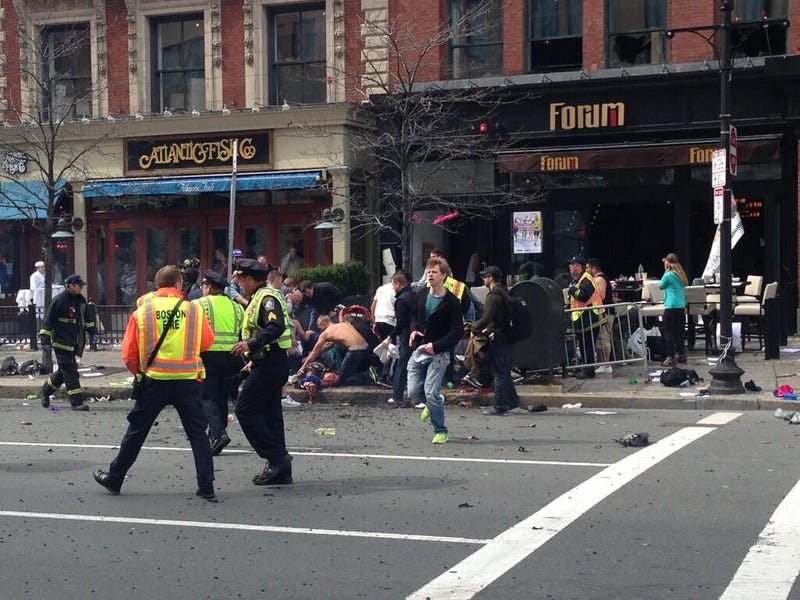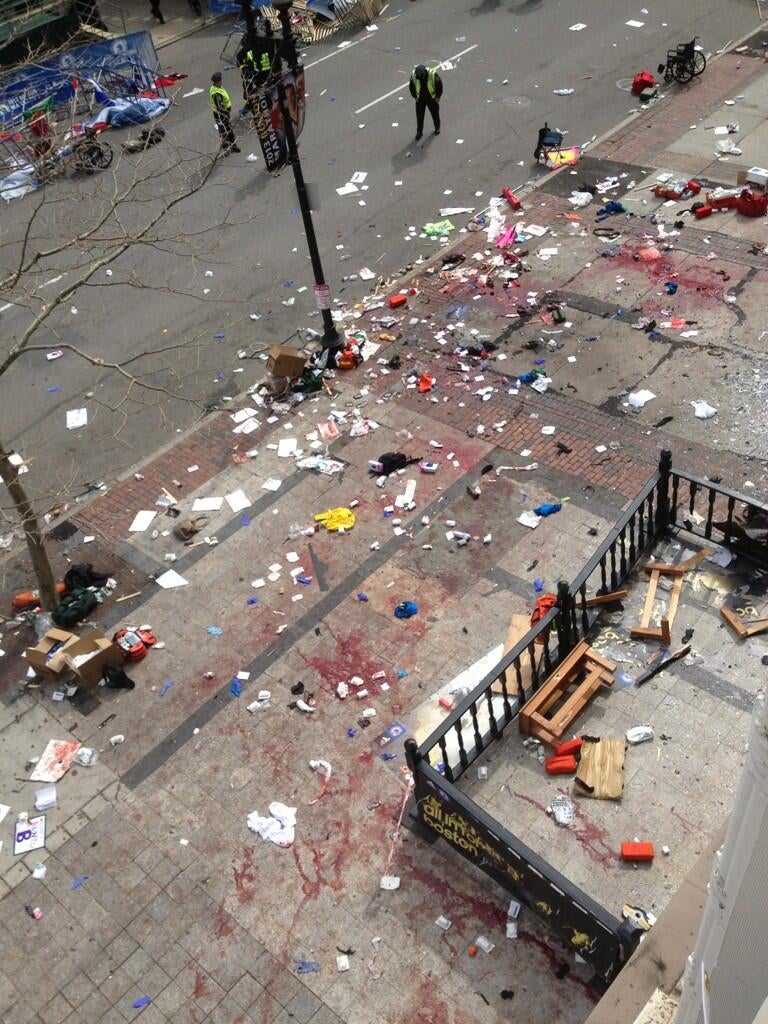 Via Matt Norlander, a screengrab from CBS's broadcast apparently showing an explosion.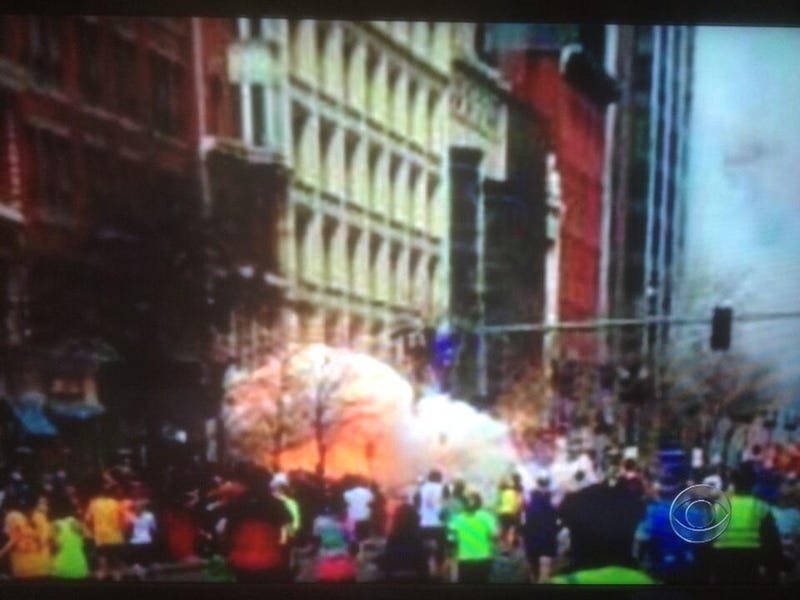 Via Matt Perrault, smoke rising over the Boston skyline: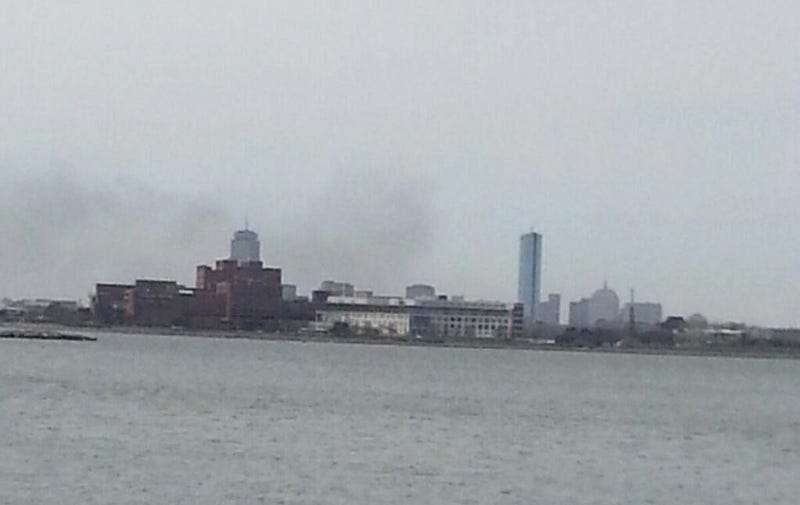 From Globe photographer David Ryan: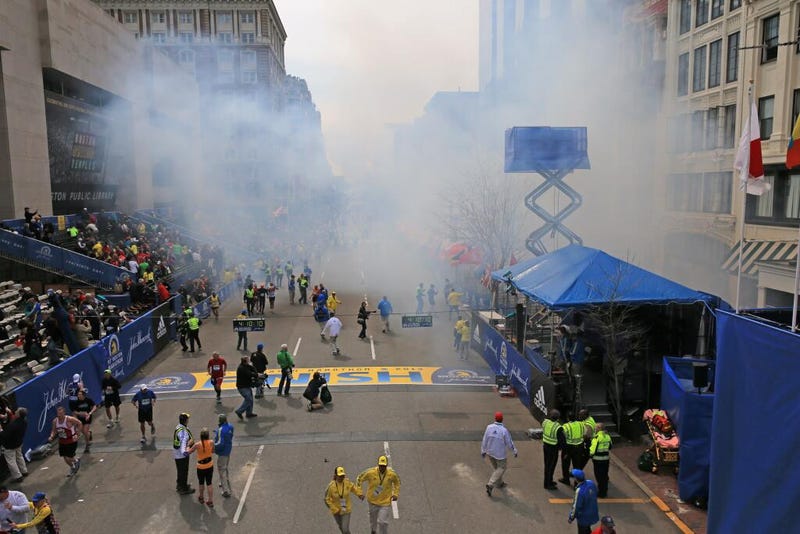 Via the police scanner, the marathon is canceled. Anyone still on the course should stay away from Boylston Street or Copley Square.
Video of an explosion near the finish line:
Ground-level video of the explosion, with audio. You can see and hear the second explosion at the 10-second mark:
Cell phone video, at a distance, of the second explosion:
The marathon was being run in honor of the victims of the Newtown massacre. Some families were apparently watching from near the finish line:
Oh jeez, AP reporter on TV says Newtown families were in the VIP section right by the explosion. No injury reports, she's locked down w/ one

— Michael Ditto (@janus303) April 15, 2013
For those looking for information on specific runners, the marathon has a chip-based tracking system. You can consult it here.
Around 3:55, the bomb squad set off a controlled explosion opposite the library.
The marathon organizers have released a brief statement:
There were two bombs that exploded near the finish line in today's Boston Marathon. We are working with law enforcement to understand what exactly has happened.
An Associated Press photo of Boston police, fire, and EMS services swarming the scene: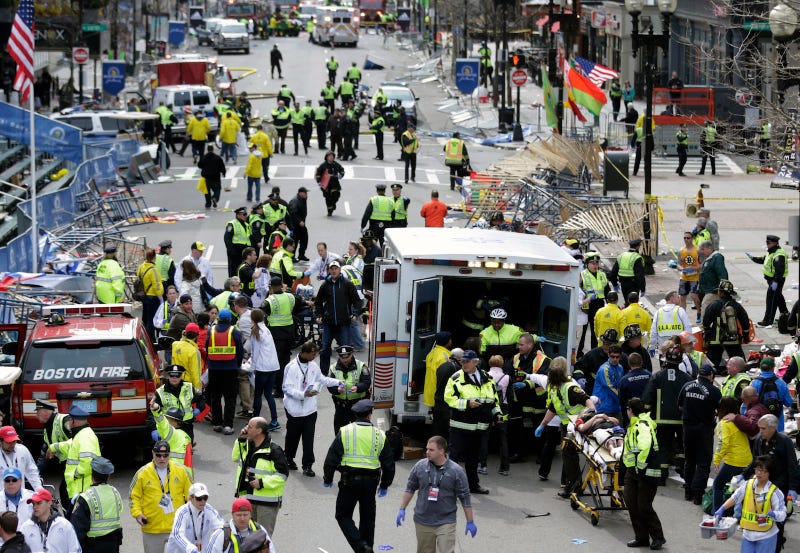 Boston Police in the immediate aftermath, from Globe photographer John Tlumacki: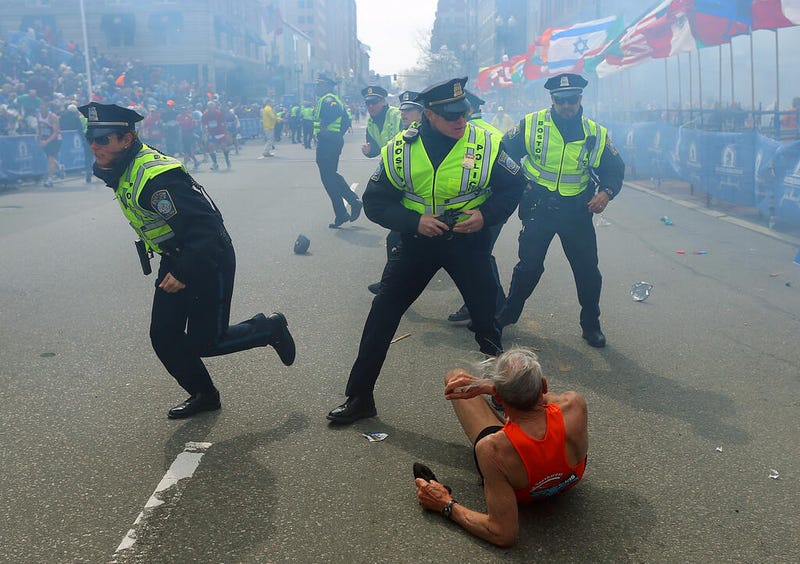 From Boston PD's public information chief:
22 injured. 2 dead #tweetfromthebeat

— Cheryl Fiandaca (@CherylFiandaca) April 15, 2013
Raw video of the immediate response, from the Boston Globe.
The New York Times has a graphic showing the locations of the two explosions, about a block apart on Boylston St.
An official tells the AP that additional devices were located, in addition to the two that exploded. It's not known if this includes the one detonated by the bomb squad.
Possibly related, at 4:27 the scanner reported a confirmed explosion at the JFK library, with no injuries reported.
If you're running, or looking for a runner, the meeting area has been changed:
#BostonMarathon runners: B.A.A. says Boston Common is the new family meeting area.

— Runner's World (@runnersworld) April 15, 2013
Tonight's Senators-Bruins game is reportedly off:
Source: Bruins game is PPD.

— Joe McDonald (@ESPNJoeyMac) April 15, 2013
Intense video of the first explosion, from Steve Silva, Boston.com producer:
Boston PD commissioner Ed Davis confirms there was a third incident at the JFK Library, several miles from Copley Square. There were no injuries. (A library spokesperson says it was a fire in the mechanical room.)
An official tells the AP that cell phone service in downtown Boston has been shut off or limited to prevent detonations of any undiscovered devices. (Update: this was apparently a false report.)
From Getty, a bomb squad member investigates an item near Kenmore Square: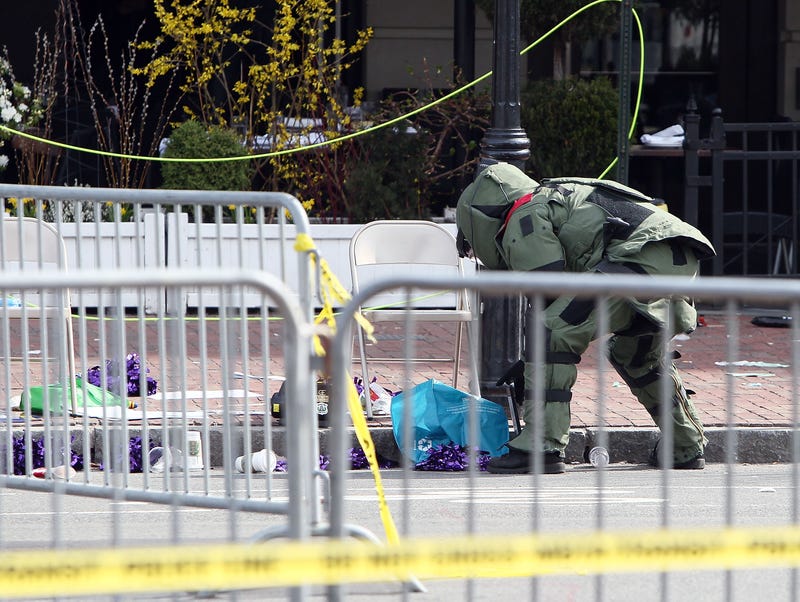 UPDATE: Police are asking everyone in Boston to stay home; if you do go out, do not travel in large groups.

— The Boston Globe (@BostonGlobe) April 15, 2013
Of the 23,326 runners who started, 17,584 crossed the line. Last recorded finisher at 2:57 p.m. #BostonMarathon

— Runner's World (@runnersworld) April 15, 2013
From the AP, a spectator tries to find a friend after the marathon was canceled: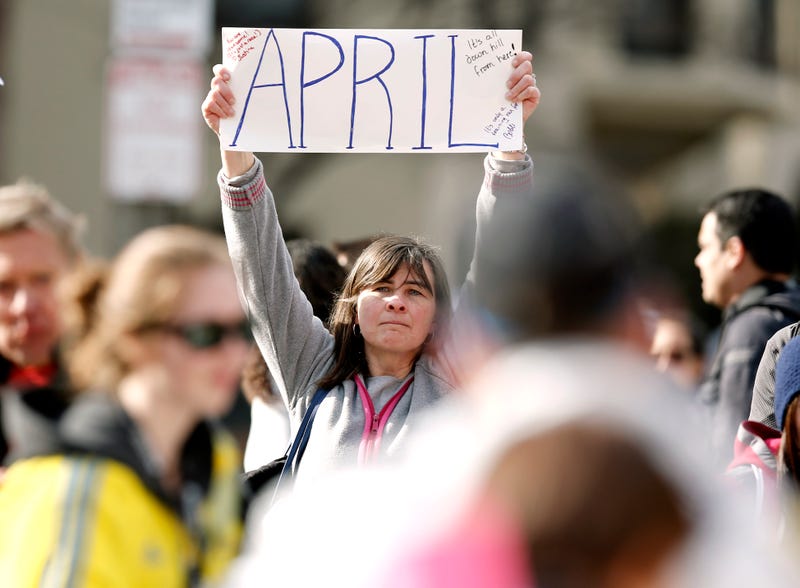 Via Eric Twardzik, a photo taken around 5:30 of a man being handcuffed on the Boston Common. Twardzik says he's wearing a white baseball cap: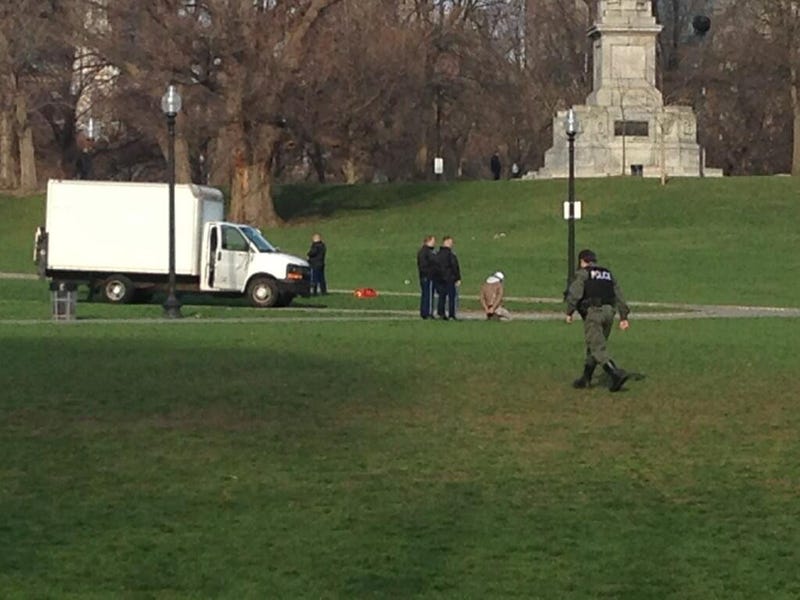 In a 6:00 press conference, the police commissioner says the fire at the JFK library appears to be unrelated to the marathon blasts.
The Post has been reporting that a potential suspect is under guard at a Boston hospital, citing "federal officials." Police Commissioner Davis seemed to dismiss that, saying BPD had no one in custody. NBC News now reports on a "possible suspect" who was injured in the blast. It's worth noting that neither the Post nor NBC had claimed anyone was arrested.
The latest casualty figures:
MARATHON EXPLOSIONS: Boston hospitals report 107 people brought to seven institutions for blast injuries — in addition to 2 killed.

— The Boston Globe (@BostonGlobe) April 15, 2013
MBTA Green, Red, and Orange Line service has resumed, though riders can expect delays.
President Obama's statement on the bombings:
Due to the generosity of our donors we don't need blood at this time. Please schedule for a future donation redcrossblood.org #marathon

— RedCrossEasternMA (@RedCrossEastMA) April 15, 2013
One of the confirmed dead is an eight-year-old boy, @wbur is reporting with two sources.

— Andrew Phelps (@andrewphelps) April 15, 2013
JUST IN: @johnmillercbs reports that individual is in custody after Boston blast, a Saudi national. Reported cooperative/denies involvement.

— CBS News (@CBSNews) April 15, 2013
The Globe has a graphic showing the blast sites on the marathon route.
A stunning Globe photo of marathoners being stopped at Massachusetts and Commonwealth, about a half-mile from the finish: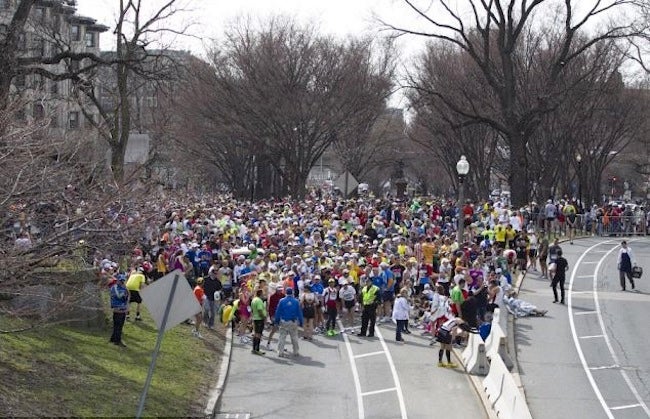 Here's a list of Bostonians offering up a place to stay for the night. It's a long list.
This post is no longer being updated. Check the front page for further developments.