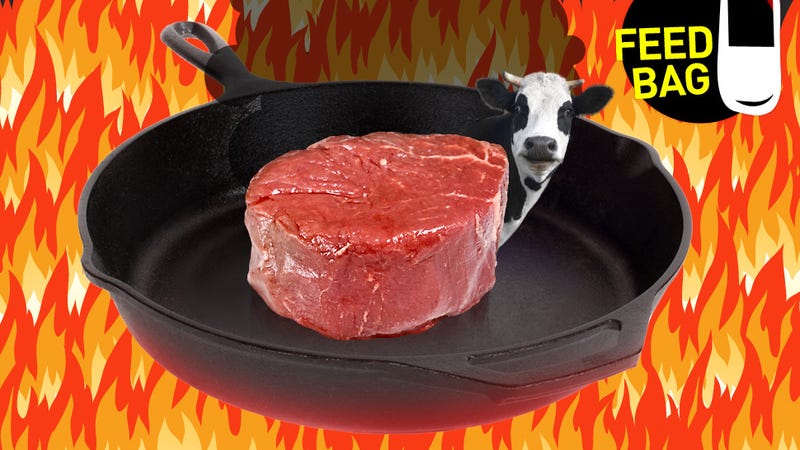 Welcome to the Feedbag, where all the dumb questions about food, drink, cooking, eating, and accidental finger removal you've been embarrassed to ask can finally receive the berating they goddamn deserve. Also: answers. Send all your even-vaguely-food-related questions to albertburneko@gmail.com. All of them.
Drew:
I like steak, but the thought of going to Fleming's and paying $45 for an $8 piece of filet makes me angrier than a Tea Partier at a gay bar during happy hour on tax day. Any ideas on how to replicate the results of a steak house filet? I've tried putting it on a grate directly over a full chimney of charcoal with mediocre results.
Yeah, no, Drew, don't do that. There's probably no actual basis for this, but I think of grilling as a technique appropriate for big, fatty cuts of steak—ribeye and strip and the like, the kind eaten by dudes with ten-gallon hats and bushy Sam Elliott mustaches. The filet, I dunno, the filet is a more delicate wad of sawed-off cow muscle. It requires gentler treatment than just chucking it onto an open fire, I think.
A filet, since it has less marbled fat than other steak cuts, should be minimally cooked to prevent it from drying out. That is to say, when you stab it with a fork to hold it in place for your steak knife to cut, it should moo horribly, buck wildly, and crush your ribcage with a kick. We've beaten this technique into the ground, but the best way to prepare a filet is to sear-roast it—or even, if it's fresh and of high quality, to leave out the roasting part, sear it on its two flat sides, and serve it with the inside still essentially raw.