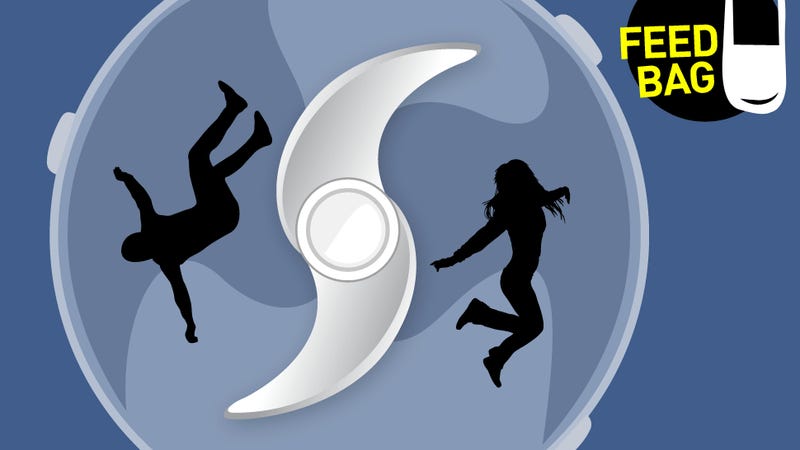 Welcome to the Feedbag, where all the dumb questions about food, drink, cooking, eating, and accidental finger removal you've been embarrassed to ask can finally receive the berating they goddamn deserve. Also: answers. Send all your even-vaguely-food-related questions to albertburneko@gmail.com. All of them.

Rob:
I have a new baby and my wife wants to make baby food. I understand the healthy eating aspects of it but I'm afraid I'm going to get dragged into daylong pureeing marathons. Is it worth it to make your own babyfood? Am I getting suckered into a healthy moms scenario I want no part of? Can I eat the babyfood as a late night snack?
Rob (or, well, Rob's wife), nothing in the world is more understandable than the desire to give one's children the absolute best of everything. The best possible food, the best possible exercise, the best possible education, the best possible prosthetic rocket launcher. And you think to yourself, Hell, if giving our kid(s) the very best of everything means that we have to be haggard, braindead, wrung-out bone-bags because we spend 23.5 hours a day puréeing organic carrots and kale and spoon-feeding it to our baby instead of sleeping, eating, going on dates, taking breaks to play video games or whatever the fuck, well, little Ysybylle deserves parents who are willing to do that for her, doesn't she? And, of course she does. Look how cute she is! Look at how she brims with light and life and spirit! Look at how profoundly, radiantly joyful she is in the alternate universe in which you have any time or energy or emotional bandwidth to engage with her happily because you are not spending every waking second puréeing squash and making SAT prep flashcards and hand-stitching dye-free onesies for her! What a fulfilled, stimulated, happy child she is, in that alternate universe over there!
Look: Being a parent of a baby is an exhausting, punishing, around-the-clock commitment even for those parents who don't turn it into the goddamn OCD Olympics: It's a sacrifice even for parents who do not fetishize their own self-sacrifice. It's hard. It's emotionally overwhelming. There's an entire industry built out of dreaming up new imaginary child-rearing challenges and new products to address them and telling you that you are a delinquent parent unless you purchase them for your kid, and there's an entire counter-movement of stinky hippies who tell you that your children will grow up to be mechanized cancerous Morlocks unless you resist at every turn every child-rearing option which does not require the absolute maximum of work and attention and suffering on your part. There will be times, no matter how dedicated and loving a parent you are, no matter how charming and easygoing your child is, when you will resent your child's very existence and seem to have energy only for mourning the life you used to have—which, when you think about it, is a pretty horrible fate for your child, mitigated only slightly by the fact that she shares it with every other person who ever lived. That's the best-case scenario.
And the easiest thing to lose sight of in the unnavigable fucking love-and-guilt swamp of new parenthood is this: The very best thing you can give your child is parents who take good enough care of themselves to have something other than exhaustion and resentment and homemade baby food to give to her. Which, not so coincidentally, dovetails quite nicely with your responsibility to take care of yourself. A healthy family is better for your kid than organic homemade green beans.
Which is to say, put the fucking blender away. Put the steamer pot away. Sock the empty jars in a box and stick it in a fucking closet. Buy some goddamn corporate baby food (or, hell, go to friggin' Whole Foods and buy some organic jarred hippie-baby food). Call a trusted adult to come over and shovel some of it into your baby's face for 90 minutes, and take your beautiful wife out for a big steaming bowl of pho. Make tired, grateful ain't this some shit? faces at each other. Hold hands. Be the people you were a year ago, together, for a little while. Share a deep breath before you dive back in.
This isn't magically going to turn you into Mary Poppins. But if it refreshes you just enough, if being away from the baby for 90 minutes makes you miss her just enough to be eager, glad to see her, and prepared to be OK with whatever screeching horror she throws at you between now and bedtime, if you and your wife feel just that much more like you're partners looking out for each other rather than cagey strangers at opposite ends of the same lifeboat, you will have done 10 million times more for your baby than your fucking Cuisinart ever could.
Lee:
I "work" in an office-type environment, which means I'm bringing a lunch from home most days. This lunch is invariably either a very sad sandwich or a, like, Toy Story 3-sadness-level wrap, all lumpily-rolled and stuffed with nameless white meat (like your mom) and some limp spinach or whatever green stuff is in the fridge.

What's something I can bring for lunch that doesn't suck? Difficulties: I do not have access to a fridge (!), so whatever it is has to be able to survive at room temperature for a couple of hours. I do have access to a (shitty) microwave and some hot water.
The very best advice I can give you for this is to suggest that you cook something you love for dinner the night before, make enough of it to have leftovers, and bring a tightly-sealed tupperware of leftovers with you for lunch the next day. Many home-cooked meals taste far better the next day than they did when just-completed: their flavors have had more time to hang out together, and more importantly, you're no longer all exhausted and annoyed from what a goddamn chore it is to cook dinner, so you can actually appreciate your food instead of hating its stupid face.
So, like, chili, for example. Chili is better the second day than it was on the first, plus it's hearty and vivid and exciting enough to sock some energy into you in the middle of the day. Make a big pot of chili and save some for tomorrow's lunch (and, if you make enough, for the next day's lunch, too). It's not going to spoil over a few hours of hanging out in a sealed container in your briefcase or backpack or fannypack or taped to the inside of your thigh, so long as you don't blow your nose into it.