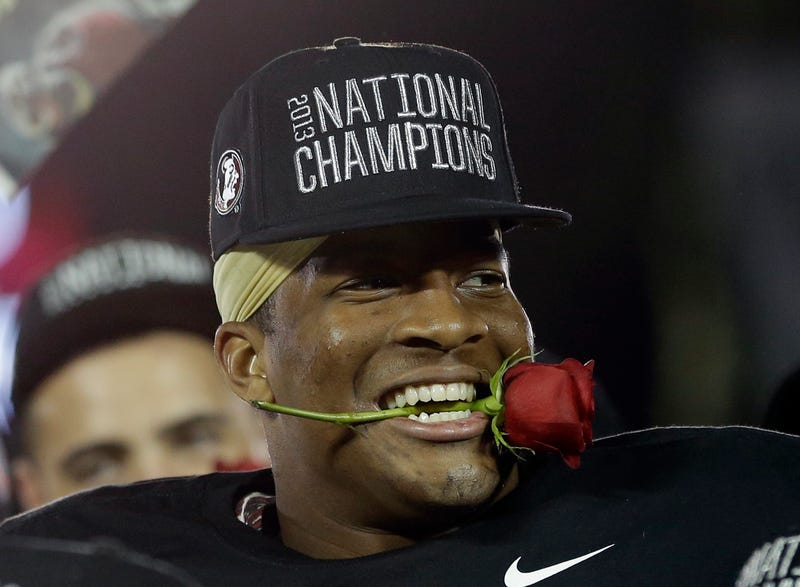 Weeks after leading the Florida State Seminoles to a national championship, quarterback Jameis Winston was quietly interrogated by university administrators, and two of his teammates were brought up on school conduct charges related to allegations that Winston raped a fellow student, according to a source with knowledge of the investigation. It had not previously been known whether FSU had initiated what's called a Title IX investigation. Now we know.
The two teammates, Chris Casher and Ronald Darby, were recently charged with five violations of the university's code of conduct, according to the source, who spoke with Deadspin on condition of anonymity because the university's proceedings were confidential. Winston doesn't currently face any conduct charges.
Like most universities, FSU has a conduct code separate from municipal criminal systems, under which students can be sanctioned for misconduct. At Florida State, a student need not be found guilty beyond a reasonable doubt, but merely "responsible" or "not responsible" for the misconduct alleged in the charges.
Winston allegedly raped the woman at an off-campus apartment in the early morning of Dec. 7, 2012, though it was nearly a year before Tallahassee police forwarded the case to the state attorney's office, which decides whether to file criminal charges. In statements given to investigators late last year, Casher and Darby both said they'd witnessed Winston having sex with his accuser. Casher also said he'd walked into the room "to see if the female would agree to allow Casher to participate in the sex acts that were occurring." Denied, he filmed the two having sex on his cell phone. He told investigators he'd deleted the video and discarded the phone.