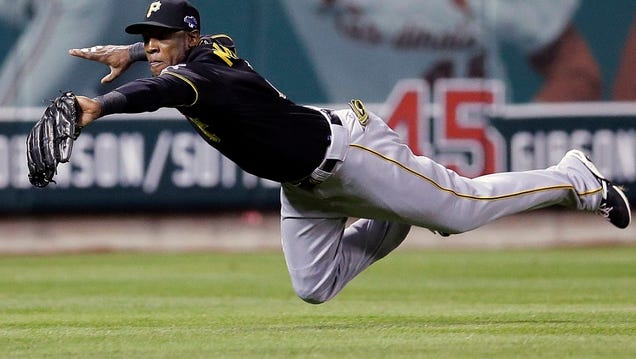 The Pittsburgh Pirates got bounced Wednesday from their first postseason trip in approximately forever, losing to the St. Louis Cardinals by a score of who gives a flying crap to you knew they'd find a way to piss this one away. Not like the Cardinals have won two World Series in the past seven years or anything. Pirates fans, already dealing with this horseshit Steelers season, have to watch Missourians, of all miserable people, celebrating yet again.
Still, somehow, Twitter brought out some of the best in people. Here was your immediate reaction from the black-and-gold mob:
love you though pirates. thanks for finally making being a fan not an endless bummer.

— Whale (@whaleywhale) October 10, 2013
@TheCUTCH22 @Pirates #thanks for an amazing ride. Can't wait til 3/31/14. You guys made this lifelong fan and season ticket holder proud!

— Charles Sherrange (@Shoescatanddad) October 10, 2013
.@pirates great season. Thanks for making September and October baseball fun for the first time in a long time. #raiseit

— Jason (@JQFreed) October 10, 2013
Thanks for one hell of a fun season, Pirates. #RTJR

— Matt DiMarco (@mattdimarco) October 10, 2013
One hell of a ride. Thanks @Pirates for a season I've been waiting for my whole life #BUCN

— Jorden Hill (@JordenHill95) October 10, 2013
Thanks @Pirates. Being emotionally invested in September and October baseball this year was awesome.

— Aaron Bailey (@Notorious_AMB) October 10, 2013
Thanks #Pirates for a great season. You exceeded my expectations by mid-August. It was all lagniappe after that.

— Jan Moller (@jmollerLBP) October 10, 2013
Heartbroken, but appreciative. It was a fun ride. I'll never forget my first #Buctober. Thanks @Pirates

— Samantha Bresnahan (@sbresnahan22) October 10, 2013
I love my @Pirates and because of that I will drink to how well they played this year! Drink drank drunk

— Don Dingo (@TheDINGOhimself) October 10, 2013
Im still gonna wear my pirates shirts. if anyone gives me shit for it, im gonna fuck there day up

— Matt Reagle (@Reagle4Life) October 10, 2013
Last time I got to see a Pirates playoff game I was 13 and left it crying. Those terrible memories have now been replaced by new great ones

— Brent Sandrock (@Rocky1332) October 10, 2013
Dear Dogers, Please sweep the cards because they are a garbage ass team... Sincerely, Pissed off Pirates fan

— StefanB (@StefanBtheMan) October 10, 2013
... and we'll leave you with this fellow. Speaking of dubious streaks.
Was saving this gem for the pirates win, but here it is anyway #BUCNaked pic.twitter.com/7g3RH24Efm

— Ty B (@SirSwish22) October 10, 2013
Photo credit of Starling Marte robbing Matt Carpenter: AP