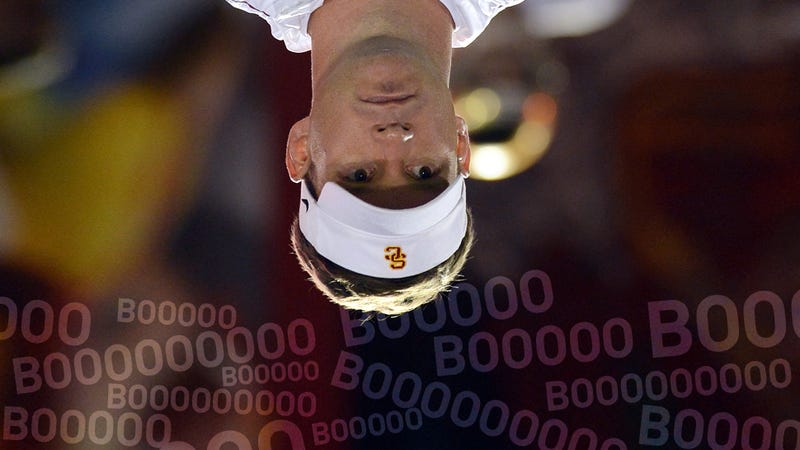 Watch enough football for long enough, and eventually you'll see everything. I believe this: In this calendar year alone we've seen a one-point safety, a Heisman finalist cop to having an imaginary girlfriend, and a 300-pound left tackle score on a hook-and-lateral, among other improbable feats. And I believe that, at some point, we will see a head coach whose tenure is so far past its expiration date, whose team has so visibly checked out on him, that his bosses abandon all pretense and have him physically escorted from the stadium by security while a game is still in progress. I'm convinced this will happen, because I watched Washington State's 10–7 upset over USC last Saturday in its entirety, and I'm convinced Lane Kiffin nearly became that coach.
The fact that Kiffin's boss, athletic director Pat Haden, felt compelled to respond to the debacle with (yet another) call for patience only reinforces the siege mentality that has gripped the program. After last year's free-fall from the polls over the second half the season, what else is left to see? Saturday was the home opener on the heels of a lackluster debut at Hawaii, and the scene at the L.A. Coliseum simmered with the nervy discontent of a revolt in the making. I wasn't there, but I imagine the air smelled of spent gunpowder, and that all along 34th Street, students were making barricades out of overturned bunk beds and Yaffa Blocks and their parents' S-Classes.
The boos broke out in the first quarter. The offense, which Kiffin fought to keep under his control in the offseason, was conservative to the point of farce. The quarterbacks, both Kiffin recruits, were too inept for it to be anything else. The diminished crowd that remained after the game, having just witnessed the mighty Trojan offense complete a single pass for a first down against a team it had bombed for 45 points per game over the previous decade, responded in the only rational way, by chanting "FIRE KIFFIN!" (Outside, someone amended the Coliseum parking lot appropriately.) Even in a vacuum, anyone on hand who had arrived knowing nothing about recruiting rankings, or the internal rifts that accompanied the collapse of 2012, or the rampant rumors about Kiffin's personal life, still would have grasped fully the depths of his failure.
Since we don't live in a vacuum, we know that this is how it often goes for embattled coaches when they cross the point of no return, as the scales tip irrevocably in favor of the critics. After anger, other phases will follow: Depression as the team fails to pull out of the malaise, bargaining over possible successors, eventually acceptance and probably even some relief when the axe falls. At USC, we've already seen the obligatory staff purge. Now comes the part where frustrated players decide to take things into their own hands. These things can be surprisingly emotional, but in themselves they rarely catch anyone by surprise.
Almost never, though, have so many people seen the disintegration coming from so far away. Before Kiffin coached his first game at USC, there was open speculation about where his abbreviated, hastily abandoned tenure at Tennessee in 2009 ranked among the worst major coaching hires of the decade, enshrining him alongside the likes of Tyrone Willingham at Washington, Greg Robinson at Syracuse, and Mike Price at Alabama for long-term well-poisoning of historic magnitude. (Vol fans nearly rioted following his abrupt, overnight departure for his "dream job" in L.A., but within two years Kiffin's only recruiting class in Knoxville had effectively evaporated, and the athletic director who'd hired him had been forced out. Kiffin's hastily appointed successor, Derek Dooley, went out last year as the first coach to leave Knoxville with a losing record overall since the early days of the Tennessee Valley Authority.) Prior to that, Al Davis had kicked Kiffin to the curb with extreme prejudice just a few weeks into the 2008 season, calling him "a flat-out liar" less than two years after ignoring his utter lack of NFL experience—Kiffin spent the 2000 season as a 25-year-old "quality control" coach with the Jaguars—to make him the youngest head coach in NFL history. At the time, Kiffin looked like the apple-cheeked victim of a terrible ogre and his football politburo. In retrospect, dumping Kiffin was the sanest thing Al Davis did in the last decade of his life.