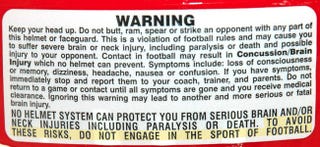 The New York Times has a look at the various warning labels that exist on football helmets. You know, the little stickers you've never read? If you had, you'd have noticed one manufacturer's blunt instructions on how to safely use a football helmet: don't.
For a decade, Schutt Sports has added its own safety tip to the boilerplate language mandated by the National Operating Committee on Standards for Athletic Equipment. Schutt's addition is striking:
No helmet system can protect you from serious brain and/or neck injuries including paralysis or death. To avoid these risks, do not engage in the sport of football.
It's true! Not that anyone is going to first learn that football is dangerous from a tiny sticker on the helmet they've already purchased to play football. So why does Schutt do this, while larger helmet makers like Riddell (who just lost a lawsuit brought by a brain-damaged high school player) go with the bare minimum?