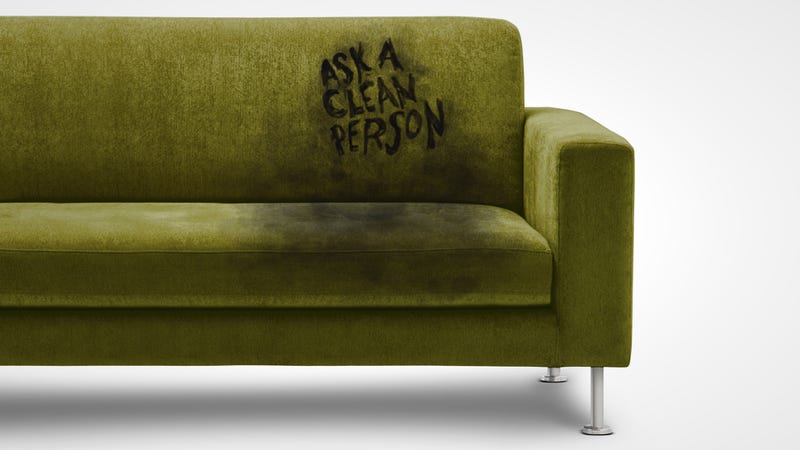 Jolie Kerr is a cleaning expert and advice columnist. She'll be here every other week helping to answer your filthiest questions. Are you dirty? Email her.
Here is my squalor.

I've had my sofa for about four years. The piece is still in great shape and beautiful except for one thing: For some unknown reason everyone prefers to sit in one specific spot on the couch — the far right side. Over time, the spot where people rest their head while sitting there has developed a nice dark, round, greasy spot in the shape of humiliation. The cushion is not removable and neither is the fabric. For now, I have just been throwing a blanket over it so nobody has to see it and so it doesn't get any worse. How can I get rid of that greasy spot?
Before we do this thing, everyone should go on and click play so we can enjoy a thematic soundtrack to our couch triage efforts.
Our Letter Writer didn't specify what type of fabric the couch is covered in, for shame, for shame. But actually I'm glad he didn't because it gives me the excuse to introduce you to the Couch Cleaning Legend. You'll find the cleaning information you need on the couch's care tag, and will interpret what you find there thusly:
W = Wet/water cleaning only
S = Dry solvent cleaning only
SW = Dry solvent and/or wet cleaning
X = Professional cleaning or vacuuming only
If you've got a W on your hands, go ahead and get an upholstery cleaner; I prefer the foaming ones, and ones like this Bissell dealie because it comes with a brush attachment that will help greatly in getting that greasy stain up off your couch. As always with these kinds of cleaners, be sure to test it out on a less visible area of the furniture to be sure it doesn't cause any kind of damage to the fabric. You could also go in for a steam cleaner — you can rent them from most hardware, home-improvement or grocery stores for about $30 a session. An important caveat here is that if your couch contains polyester it will not react well to the heat from the steamer.
Because it's a grease stain we're talking about, it will also be good to know that products like Pine-Sol and Lestoil are great as oil and grease stain treatments. If you've got the time and inclination, you may want to dab a bit of one of those things on the stain, allow it to work for 15 or so minutes, and then break out your upholstery cleaner.
If you're working with an S, you should march right on down to your local hardware store for a can of dry-cleaning solvents. We talked before about using dry cleaning solvents to clean up a car interior that had been treated to a butter wash, so I'll give you the short version here.