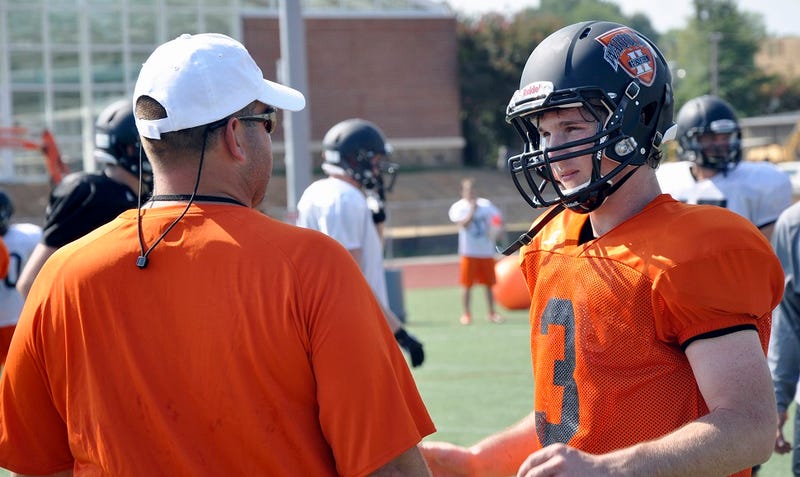 Right up there with Chicago Cubs 1908 World Series Champions among great historical-minded sports T-shirts is the one that has floated around central Arkansas for years: The shirt that proclaims Hendrix College football "undefeated since 1960." The joke, of course, was that the little liberal arts college dropped football then, for lack of funds. By the same logic, Switzerland has been undefeated since 1815 and the Pope has been unscored upon since 1936. Facts!
This year Hendrix relaunched varsity football over the grumbles of its hippie-nerd alumni. The reason was a naked cash-grab. The school believes it'll help marketing (and here we are, playing right into the trap, mentioning Hendrix's solid academic reputation and 11:1 faculty-to-student ratio and proximity to a big Walmart with a gas station) but moreover, it will attract football players ... who will pay tuition. This is an inversion of the naked cash-grab happening at Division I football schools, which tend to cover a student's bills so long as that student agrees to participate in a traveling televised circus that rakes in billions of dollars for the cartel that runs the show. Because their traveling circus doesn't draw much of an audience, Division III schools charge tuition and room and board and fees (at Hendrix and at other private colleges, that sticker price is nearly $50,000 a year) to students who come and play because they figure they should get a degree and want to play football as they do.
In case you want to know what that tailgate scene looks like: Here's the Arkansas Times, on the scene.
It wasn't just students — the alumni were out in full force. One group of alums, unable to get ESPN Gameday on the portable television under their tent, opted instead for a pre-game screening of the film "Roadhouse."

"Swayze, bar fights, I'm in!" one shouted.

As the Solo cups emptied, they grew nostalgic.

"Things I never thought would happen in my life are happening," one said.

"This is good for us guys," a buddy said. "I never even went to school here but I kicked it here a few times. This is good."

Said another, "We had athletes in our day at Hendrix; they just smoked themselves retarded."
In his SB Nation breakdown of the Hendrix football revival, Evin Demirel writes that a roster of 65 to 70 students would net the college close to $2 million a year — real spendin' money in Conway, Ark. Turns out football's just another bauble to dangle in front of high school seniors who are about to blow six figures on a college degree. You pay to play, and if Hendrix's coach, Buck Buchanan, has anything to say about it, you'll leave with some lifelong friends and a degree that represents some actual book learning. From SB Nation:
One of his main selling points is the prospect of attending a school where the term "student-athlete" actually rings true.

"We're not selling out to any larger entity," [Buchanan] said. "If you go out and look at our field, you're not seeing sponsorship ads everywhere. We're not piggybacking our guys. We're trying to give them the tools it takes to be successful."

Even the NCAA itself, which insists the ideal of a "student-athlete" still accurately depicts the best players at the most lucrative big colleges - reports of $300 handshakes and sham jobs be damned - appears to tacitly acknowledge the phrase means different things in different contexts. For evidence, look no further than the second tenant of the NCAA's official "Division III Philosophy Statement." It reads that Division III schools "place special importance on the impact of athletics on the participants rather than on the spectators and place greater emphasis on the internal consistency (e.g. students, alumni, institutional personnel) than on the general public and its entertainment needs." The goal is to "Primarily focus on intercollegiate athletics as a four-year, undergraduate experience." In other words, it's about the players.

You won't find that statement in the official "Division I Manual."
Whether a D-III program necessarily molds men and scholars more effectively than LSU or Arizona State, there's still the matter of paying the bills. Does D-III football really fluff enrollment enough to put a school in the black? I ran this question by the guys at D3football.com and got a marvelously thorough response from Pat Coleman, the site's executive editor. The tl;dr version is, in many cases, this scheme works like a song.
"There are a handful of reasons why a D-III school might add football," Coleman wrote. "Driving enrollment, especially male enrollment, is a big reason. (Other schools have cited a desire to keep students around and campus active on the weekend. Less often, I hear about a school trying to shed its historical image of being a women's school.)" You can read a 2005 story he wrote on the topic here. "Administrators tell me that if you bring in 100 new students to play football, you could get another 20 or so as regular students, perhaps players' girlfriends or friends from high school. Southwestern has found there is a draw for their marching band, etc."
Now, I think it's fair to say administrators might be bullshitting at least a little here, but this makes intuitive sense. Few students, especially those who play varsity football, will pay the full freight on their college educations. Still, if you get 120 students each paying even half of the stated price of tuition, room, board, incidentals? Why, that's a cool $3 million a year, every year, plus an excuse to invite the alumni back onto campus six times per fall.
"Without getting too deep into the finances at schools, since it varies, remember most of these kids are paying full tuition minus loans, academic grants and need-based aid," Coleman wrote. "Evin mentions 'leadership' scholarships in his piece but those skirt the line. No aid is to be awarded based on athletics. The NCAA monitors this and as long as the schools don't give more than 4% additional aid to athletes than to non-athletes, they're in the clear."
While schools are doing the same thing with other sports — lacrosse, notably, since you tend to get a richer tranche of students, who require less of that pesky need-based aid — football, with its huge rosters, is king. Coleman sent a list of programs that have built football programs "from scratch" since 1997. (Yes, this response of his, it was thorough.) Most of these are schools you couldn't find on a map. A hundred more students at any of them, almost without exception, constitutes a sizable bump: