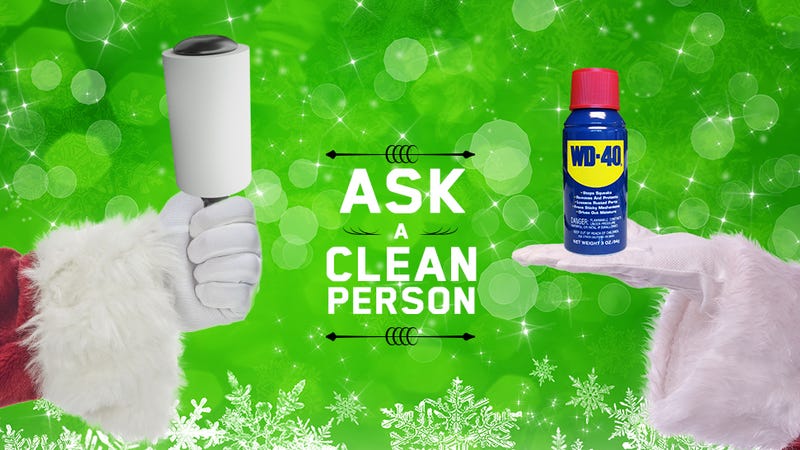 Jolie Kerr is a cleaning expert and advice columnist. She'll be here every other week helping to answer your filthiest questions. Are you dirty? Email her.
This might be more of a botany question, but still: Dear God, PINE NEEDLES. How do you get your tree to stop shedding and/or how do you avoid getting pine needles all over everything without having to vacuum daily? Is that even possible?
Unfortunately, it's not really possible to keep a natural pine tree from shedding. Regular watering will, of course, help matters greatly but rogue needles are simply part of the deal when it comes to trees (if it makes you feel better, even our white tree—which is, as you might imagine, decidedly not real—is shedding on my clean floors).
But since 'tis the season and all, I figured I'd take the opportunity to go through some pine needle cleanup best practices.
Vacuuming: Before you begin vacuuming up errant pine needles, go ahead and empty the vacuum bag or canister—pine needles en masse get very bulky very quickly, and your vacuum will perform the pine-needle-pick-up task much better if it has an empty canister or bag. This is also the time to break out your attachments; you'll want to go in for the hose, rather than the brush, which will allow more space for the pine needles to take the journey from floor to dirt chamber. The brush also isn't ideal because the needles can, and likely will, get stuck in the bristles. So! Hose attachment. Use it. Love it. Make a million "it rubs the lotion on its skin or else it gets the hose again" jokes.
Sweeping: If you've got a rubber broom, great. They're better for cleaning up pine needles than are their rush-y brethren because the needles are less likely to stick to the rubber.
Oversized lint rollers: These are particularly great for any furniture that has gotten needled, though of course you can use them on the floors. It's just awkward, and not recommended if you've got back problems.
MacGyvering: If you really like the idea of the oversized lint roller, but have back problems, you can rig up a kind of cool version using a broom or a long-handled paint roller and duct, masking or double-sided tape. Secure the tape to the broom or roller using a rubber band (if you're using double-sided tape you won't need to do that part) and get after those needles.
I've got sap on my hands that won't come off.
Rubbing alcohol, hand sanitizer, or nail-polish remover will all help to get that sticky sap off your hands in a jiffy. Other things you can use: olive or any similar oil; salt; WD-40; paint thinner, turpentine or mineral spirits. You just have to decide what you're comfortable putting on your hands.
When it comes to clothing, carpet, or upholstery, rubbing alcohol or WD-40 are probably going to be your best bet, but as always remember to test them out on a small, discreet spot to be sure they won't damage the fabric. When it comes to hardwood, olive oil will be a safe bet; WD-40 and rubbing alcohol are also good choices provided you do a little spot test to be sure they won't damage the floors. Our pals over at Lifehacker have more tips for you, should you need them.