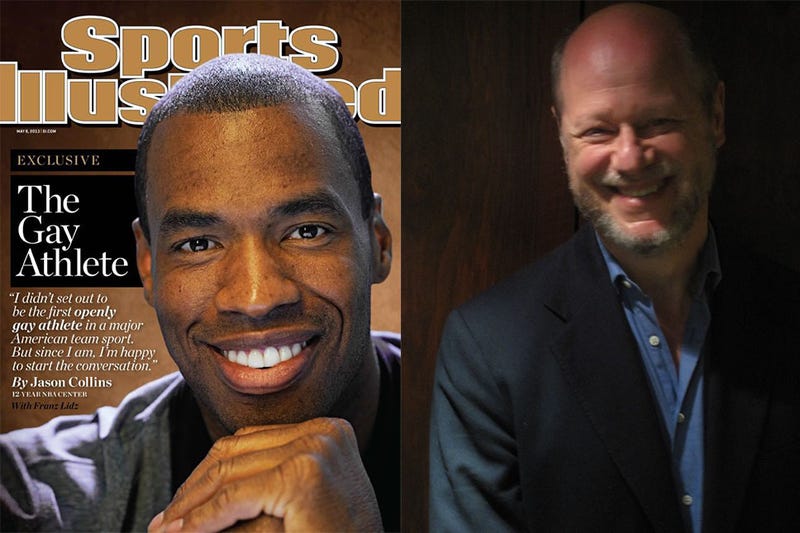 Superagent Arn Tellem had a proposition for his longtime friend, magazine writer Franz Lidz. If an active NBA player wanted to come out of the closet, would Lidz be interested in the story?
Lidz has been friends with Tellem for more than 50 years. They've known each other since they were kids playing wiffleball in a buddy's backyard. Lidz profiled Tellem—Robert Wuhl's titular character on Arli$$ is partly based on him—for Sports Illustrated 11 years ago. So, sure, Lidz was plenty interested. Tellem happened to be Jason Collins's agent. And this was how Lidz landed one of the biggest scoops a sportswriter could ever dream of.
But there were a few conditions. From the agent's side: The player wouldn't come out until the season was over. From the writer's side: Lidz didn't want to know who the gay athlete was. He didn't want to be trapped in a fraught embargo. What if it leaked? How would he sit on it?
"We kind of trust each other because we've known each other for more than 50 years," Lidz told me. "It seemed like it was more fun if I I didn't know."
Lidz also had to figure out where to place it. In 2007, Lidz took a buyout from the buyout-happy Sports Illustrated. He headed over to Portfolio and wrote the first piece that declared unambiguously—with first-hand evidence—that George Steinbrenner was suffering from dementia. Over the last few years, he's written only a piece or two a year for SI. He's written some movie reviews for The New York Times and he contributes features to Smithsonian.
So where to go with an undeniably huge scoop?