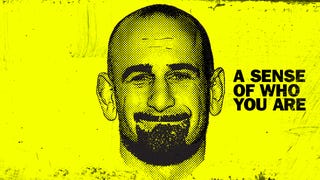 Last year, we spent a week with Greg Jackson, a top fight trainer, as he and his team prepared four athletes to compete in the Ultimate Fighting Championship. We were granted unusual behind-the-scenes access so that we could answer a fairly straightforward question: Just what does a great coach do, and why does it work?
Saturday evening, Jan. 26, 2013
There's a thin wash of blood seeping from a gash running along under Shawn Jordan's right eye, and the other corner—Mike Russow's corner—sees it.
"Tear it more," Russow's men tell him. "Make it tear more, understand?"
Over in Jordan's corner, across the cage in the United Center, his trainer, Greg Jackson, is telling him to take four deep breaths.
"Shawn," Jackson says, "we need to change the parameters of this fight a little bit."
Russow—a moonlighting Chicago police officer who comes in at about 250 pounds of lump and gristle—spent most of the first round bullying Jordan, a fullback on LSU's 2007 national championship team who's now in his 18th professional fight. He tied him up and threw loose, artless flurries, landing a right hook a minute in that set Jordan running and nearly put him down. Russow collared him, and tried to wrench him down to the mat, and when Jordan shook him off, he just hooked him again, opening up the gash.
"After you move your head, blast double," Jackson tells Jordan, who's breathing deeply. "Get him down."
As he says this, he's calm; Jackson is slowing things down, deadening the moment's urgency and reducing the fight to a series of concepts. I've seen this sort of thing before. Three nights ago, I watched him talk through the bout with Jordan in a hotel room where the fighter was working himself into a panic, worrying about how he'd trained with new partners over the last few months on a torn calf muscle that never really healed and conjuring all the bad things that had happened in his last fight, when he took on heavy hitter Cheick Kongo on short notice and lost a decision. Jordan talked himself out, slouching over toward where Jackson lay on his bed with his head on a pillow, listening. That was the coach's cue, and the balding, knot-eared 38-year-old began to murmur in the big man's ear. "He's going to shoot on you," he said in the hotel room, "and it's not going to work." Then he began to accurately describe everything that would happen in the fight. You could see Jordan unwind as he did, sure in his certainty that his coach was no kind of liar, and saw what would happen better than he could.
Now here's Jackson on Saturday, addressing him again in that same deliberate way right in the middle of the United Center, with thousands of fight fans baying and the man he's been thinking about for weeks simmering over in the far corner, where they're working themes of blood and urgency.
Parameters. It's a word Jackson uses a lot, and a good word for coaches to use, though you won't often hear them say it. It suggests an awareness that athletic performance involves expanding or limiting a set of possibilities; that a contest isn't a matter of willpower to be won only by overcoming yourself, but a problem to be solved, and that a competition is, more than anything else, about imposing a certain order.
Ideas in this line have won Jackson a reputation as perhaps the best trainer in the fight game and as a man who profoundly misunderstands the point of his sport, which has less to do with what you do than precisely how you do it. These aren't exactly irreconcilable positions.
When the fighters come out of their corners for the second round, Jordan is moving fluidly. He takes tepid jabs to get into closer range, and works hooks and uppercuts that barely connect but open up enough space for him to come in on Russow. In a loose stance, palms out, moving his head in and out, he throws a checked kick, moves his head, and shoots the double, blasting Russow down against the edge of the cage, where he nails him with wound-up fists and tight elbows.
Turtled up, Russow gives up his back for a choke Jordan can't quite sink, sweeps out from under, and ties Jordan up against the cage. It's all he has left to give, though, and with two minutes left, Jordan gets him down again, and moves from half guard to full mount and then takes his back, slipping elbows and hammerfists at every point of transition, laying them in until referee Herb Dean finally pulls him off. It's a second-round technical knockout at 3:48, and for a moment, at least, it seems that all the 16,000 people in the crowd have gone silent.
Wednesday afternoon, Jan. 23, 2013
The Ultimate Fighting Championship has taken over the Carbon & Carbide Building, and for the next four days, the corridors of the prettiest building in Chicago will be lined with fixers, hustlers, deranged enthusiasts, professional entouragists, proud parents, lovely girlfriends, and fighters, all of them in town for the Saturday night card at the United Center. Greg Jackson is working the lobby.
Jackson's team, run out of Albuquerque, N.M., in collaboration with the former kickboxing champion Mike Winkeljohn, counts among its members the light heavyweight champion Jon Jones and former interim welterweight champion Carlos Condit, along with a vast array of other contenders, prospects, journeymen, and nobodies. In all, it may be the deepest collection of talent in the sport.
The best testament to Jackson's skills might be that more than a third of the card's 11 bouts will feature his fighters. Shawn Jordan, who's coming off a loss and will probably lose his contract with another, is fighting in the third preliminary; Chicago's Clay Guida, a fringe contender beloved for his frenzied style, is in the sixth; Donald "Cowboy" Cerrone will get a lightweight title shot with a win in the semi-main event; and John Dodson is fighting for the flyweight championship in the main event, which will be seen on Fox by an audience of more than five million viewers.
In addition to his responsibilities to these men, Jackson has, his assistant Julie Kedzie (herself a ranked bantamweight) reminds him as he traipses about, a lot of other business going on. There are elaborate itineraries to plot out—Jackson leaves his family to corner fighters most weekends, and so it's important to figure out, i.e., the most efficient Albany-to-Dallas route—plus a woman who wants to join the team, newly imported Dagestanis, his upcoming role as a coach on UFC competitor Bellator's reality TV show, meetings being held at the gym, and the matter of contracts.
A fighter who wants Jackson to train and corner him is supposed to pay him 15 percent of his purse. These are often small, though, and after the manager's cut, living expenses, taxes and the rest are worked out, Jackson sometimes just sort of ends up not getting paid. So as he makes his rounds, getting treadmill work in, signing autographs, and bantering with all the other fight people who are just hanging around and waiting, Kedzie repeatedly alludes to the idea of having fighters sign binding agreements, finally asking at one point if he's actually going to do it.
"I am, I am," he says, but there isn't much more said about it. He's clearly more interested in heading upstairs and making the rounds with his fighters, first among them John Dodson, who's about 72 hours away from the most important fight of his life.
Twenty-eight years old, 5 feet 3 inches tall, Dodson—just back from a public workout—is the second-best 125 pound fighter in the world, and one of the very few his size who can knock an opponent out clean. It's an odd match of skill and temperament. Lounging around his room, pouring candy-colored powders into a gallon jug of water while wearing a John Romita Spider-Man shirt, he comes up and gives me a hug before we've even been introduced, and then goes back to explaining how annoying it is when reporters ask him to just up and dunk a basketball. (This apparently happens fairly often.)