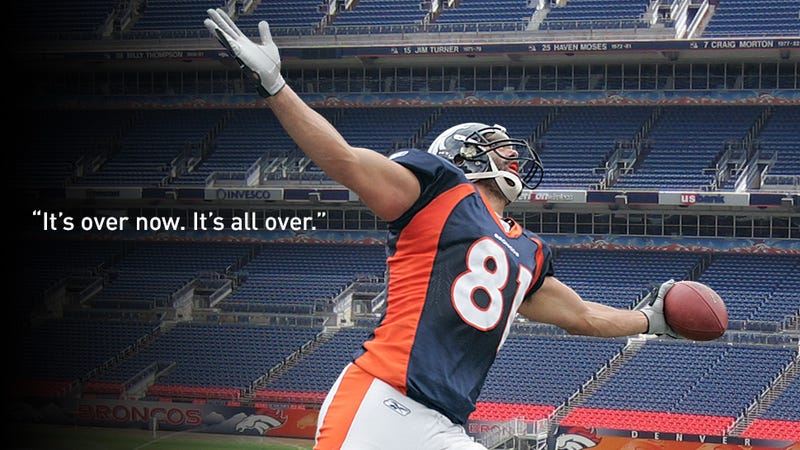 Excerpted from the new epilogue to Slow Getting Up: A Story of NFL Survival from the Bottom of the Pile, now available in paperback. We published an adaptation from the book last year.
—Hi, Nathan I'm here to prep you for the surgery.
—Huh?
I'm back in Vail, Colo., lying in a hospital gown a few days after the last down of football I'd ever experience. Not that I know that yet. My hamstring is FUBAR and needs to be surgically reattached to the ass bone. And a PRP shot isn't going to do it this time. They need to cut me open. That's according to good ol' Dr. Philippon. The nurse who has greeted me is holding electric hair clippers.
—I need to shave the area. Roll onto your side.
I thought they'd wait until I was sedated. Guess not. I roll onto my side and she rolls up on a chair. The wheels sing a bitter song on the linoleum. The next tune is a buzzing Norelco. Then an anesthesiologist walks in swinging a pocket watch in my face.
—You're getting verrrry sleeeepy.
When I wake up my lips are swollen and numb from lying face down and I have a four-inch scar in my gluteal fold. My mother has flown in to help me during the post-op week in Vail. Then my mom leaves and I'm on my own.
The rehab is in Denver at the Steadman Clinic downtown. My therapist is named Kristen. We're the same age. I think she wants me. Or maybe I just want her. Our sexual tension makes for an enjoyable recovery, but otherwise I'm lost. I'm having trouble talking to people.
On one of my first days of rehab, I'm doing pool exercises next to a man recovering from ACL surgery. He says that the ligament they put in his knee is from a cadaver. I ask him if that makes his wife a necrophiliac. His look of confused disgust reminds me how poorly adjusted I am to civilian discourse.
Eventually I'm cleared by the doctors and say goodbye to Kristen. We both decide not to say the thing we most want to say. Or maybe it's just me. I drive back to San Diego to revive the dream … again. People ask me if I'm still training.
—Uh, duh. Yes, of course! Why wouldn't I?
I am still a football player and I am going back to the NFL because I fixed the problem.