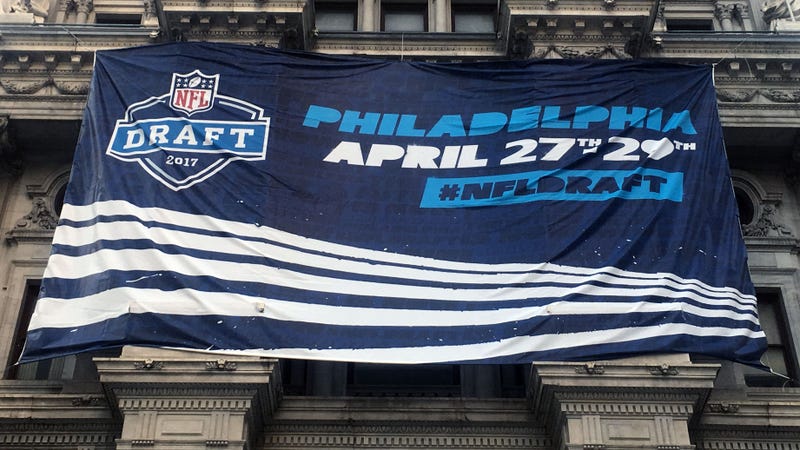 The NFL Draft will be in Philadelphia this year, and even though the event is still two weeks away, the league has already inconvenienced Philadelphians with roads being shut down, construction, the closure of at least one school, and garish branding.
First annoyed were the tourists. Visitors that came to Philadelphia to run the steps at the Philadelphia Museum of Art last week were blocked due to the construction of the stage for the draft. "We specifically stopped here for a day to do the Rocky steps, this being the epitome of Philadelphia—the Rocky tour," an English tourist told the Philadelphia Inquirer.
Worse than denying English visitors an opportunity to pose for cheesy photographs is the fact that road closures for the late-April event actually began on Monday and will continue until May 7. That's a month of road closures for a three-day event that is still two weeks away!
The draft is being held on the Benjamin Franklin Parkway, a 100-year-old road that juts out of Center City Philadelphia at an angle and is the site of Philly's museum district. It's a fine place to hold a big event, but it also handles a lot of traffic in and out of Center City, and is dotted with apartment towers.
"The short answer is that the NFL Draft Experience includes numerous large structures," city spokeswoman Lauren Hitt told Philadelphia magazine in a long statement attempting to explain why the roads need to be closed down so early. "We know this is an inconvenience for residents and we appreciate their patience. They are encouraged to take advantage of this free, family-friendly event or, if you're not a football person, nearly all of the cultural institutions around the Parkway will be open and offering special deals and hours."