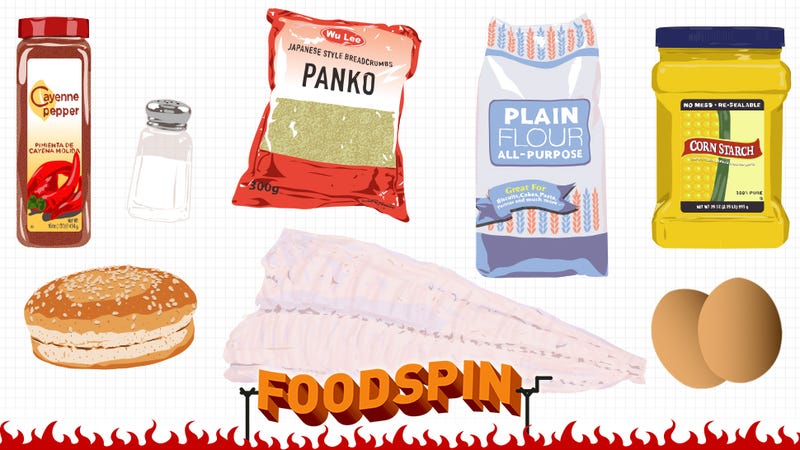 Oh, what, so you think you're too "good" for a fish sandwich? Oh, so fish sandwiches are for "weird leathery shore-people" with "wiry fisherman physiques" and "hairdos from the mid-1970s" and "scars from old knife fights"? Oh, so you "didn't actually say any of that" and I am "having this argument with myself" and you "didn't say that either" and "what is with the quotes, man" and I am "clearly having a psychotic break"? No! No to all of that! No to you.
The fish sandwich had its moment in the sun some decades ago, when very stupid people somehow got the idea in their heads that the comparative healthfulness of white fish over beef made it the more nutritionally upstanding filling for a sandwich even when coated with deep-fried bread, but then those dumb idiots all died of heart disease, and the fish sandwich's reputation never really recovered from this tremendous improvement in the mean IQ of the human race. Nowadays it persists as an even-guiltier-than-all-the-other-shit pleasure on fast-food menus—Ah, what the hell, might as well have a fish sandwich, you think to yourself, holding your tear-stained pay-stub and contemplating the infinite—and as a way for Catholics to observe both the Lenten fasting and self-mortification traditions of their faith at the same time.
Beyond its obvious failings in the not-turning-you-into-a-dead-body department, there's just something seedy and disreputable about the fish sandwich. It puts you in mind of run-down vacation towns; smoky fried-seafood hellholes perched on bluffs above coastal highways with many, many motorcycles parked out front; huge, disgusting globs of tartar sauce slopping out of a grease-slicked fast-food wrapper and onto your shirt—your one fucking clean goddamn shirt, hoo boy this meeting is gonna be great—during your hurried, furtive lunch break at the office. Somewhere along the way, the fried-fish tribe diverged; fish-and-chips meandered its way to general respectability thanks to widespread Anglophilia (and also, uh, because fish-and-chips is delicious), while the fish sandwich somehow managed to become Carny Chow.
And dammit, that's not fair. Fish sandwiches—real, actual fish sandwiches, made with real, actual fish fillets and not pulped tubeworm or whatever the fuck—are delicious, too! Flaky and crispy and crunchy and bread-y and wonderful! Sure they're bad for you, but so's hot glue, and that's never stopped mzhvevvvhshehhhvvvvv.
So, just this one time, and then probably several more times no matter what your doctor says, let's make some fish sandwiches. They're so good. Oh man.
---
The first thing to do is heat up a pot of oil on the stove. If you have only a very large pot with which to work, or are on a quest to render a very large quantity of cooking oil unsuitable for future use for some reason, hot-oil party woo-hoo! Otherwise it is perfectly OK to use a regular medium-sized saucepot and only enough oil to fill up, oh, four or five inches of that pot, leaving some empty space so that you can drop a breaded fish fillet in there without burning down your neighborhood. Use a hardy oil with a high smoke-point—vegetable or canola or whatever, definitely not of Olay—and, if you're worried about temperature control, go ahead and bring the oil along over medium or medium-high heat, to lessen the odds of it rocketing past its optimal cooking temperature while you're taking a nosepicking break and becoming the protean fire of mankind's doom.
Eventually your oil will have been heating for a while and, unless you own a digital thermometer because you have replaced all the joyous human improvisation in your life with the rigid calculation of our eventual robotic descendants, you will be wondering whether it is hot enough for cooking things. As you learned back when you deep-fried soft-shell crabs (unless you did not deep-fry soft-shell crabs, in which case go to hell), there's a neat-o wooden-spoon trick for this: Dip an inch or so of a wooden spoon into your oil, and if little bubbles form on it right away, the oil is hot enough for cooking. If little bubbles do not form on the spoon, or if they take four hours to form, the oil is not yet hot enough and you probably forgot to turn the stove on fucking again, Steve, Christ, what is it with you. If you cannot tell whether little bubbles formed on the spoon because it is burning and you are burning and oh God everything is burning, oh man, that is awesome.