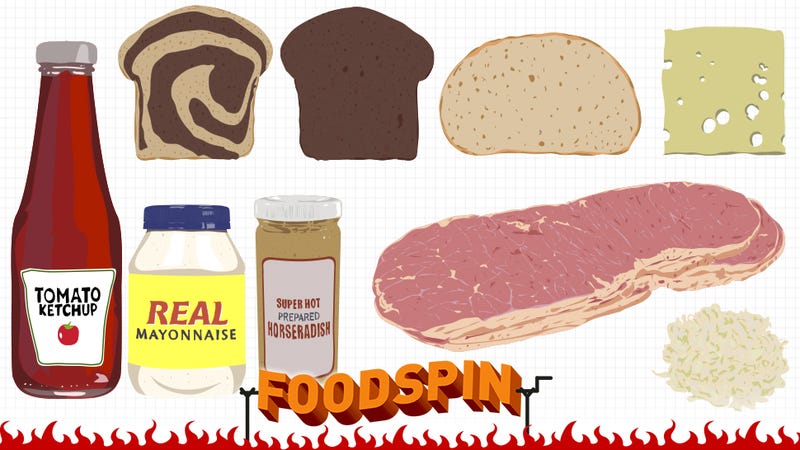 It's good to live a tidy, orderly life. Clean shirt, clean face, sensibly organized underwear drawer (I subcategorize alphabetically by superhero!), and so on. People like tidiness; they trust it. It makes things easier. Food, too, can be tidy: the neat, clean geometry of sushi; the artful towers of nouvelle cuisine; the perfect 180-degree turn you execute when you see Guy's American Kitchen and Bar in front of you. Tidy. Neat. Clean.
The problem with the tidy, orderly life, as anyone can see, is that it doesn't leave much room for a Reuben sandwich—which, factually, is as neat and clean as the average tropical storm. All that wet sauerkraut and gloopy Russian dressing; the melty, runny cheese and the greasy meat: The Reuben is the freight-train-derailing-into-a-fireworks-factory of sandwiches. The enemy of the kempt. The scourge of the tidy. The bane of the shirtfront.
This is particularly true if, as any right-thinking morally upstanding individual inarguably must, you insist upon eating a Reuben with your hands because you are not a goddamn fascist. Just you try and get that fucker to your face without some rogue cheese-strand or a wayward dab of Russian dressing or a kamikaze beef-slice leaping free to apply itself to your breast pocket, or to the crotch of your pants, or, somehow, to creep behind you, where it will write SLOB across the back of your shirt in permanent grease stains.
And that is a problem, because the other scientific fact about the Reuben, in addition to its thermonuclear capacity for mess-making, is that it is the best goddamn sandwich in the world. As we shall see. Let's make one.
---
The first step is to acquire corned beef. If, for you, this means brining an entire beef brisket for two friggin' weeks, then braising it for a few hours and slicing it thin across the grain, good for you. On the other hand, if it means resting your elbow on a glass deli counter, raising a jaunty finger, and saying, "A pound of corned beef, my good man, and slice it thin if you please," that is also good. Having corned beef is good. Knowing how to make corned beef is good. Talking like Clarence the Guardian Angel is kinda weird, and probably not as sexy as you're hoping—but, saving yourself the hassle of brining a beef brisket for half a month is definitely good.
Now, preheat your oven to 400 degrees, because you are going to cook your Reuben in it. That's right, dammit! You're gonna roast your goddamn Reuben like some kind of madman!
Lookit. If you worked at your basic crappy-yet-delicious lunch-counter joint and somebody came in and ordered a Reuben, you would of course high-five that person because that right there is a person with good taste in sandwiches—but also, you would cook their Reuben on the griddle, because that's a quick way to achieve toasty bread and a hot sandwich. The corned beef would be lukewarm and the cheese only semi-melted and the sauerkraut distractingly cool, but, hell, the Reuben would still taste OK, because it would still be a Reuben.
Likewise, if you worked in a wiener-y post-Starbucks middlebrow chain bread-boutique with a bunch of random accent symbols over all the vowels in its unidentifiably Euro-flavored name and Norah Jones music playing on the speakers 24 hours a day, and someone came in and ordered the annoying gluten-free macrobiotic "Reubenti" with alfalfa sprouts in place of sauerkraut and pages from a Michael Cunningham novel in place of corned beef, you would smash it in a hot panini press, because that, too, is a quick way to accomplish a toasted sandwich. And the sandwich would be 85 percent bread (horrifying gluten-free "bread"), because that is the only way to fit it in the panini press without squeezing all the fillings out, but it would still taste OK—or, well, no, it wouldn't, but no one would care, because when people go to those places the food is just a garnish for bourgeois self-congratulation.
The point, here, is that while the flattop griddle and panini press are more familiar tools for preparing a Reuben, you should not make the mistake of thinking of them as the correct tools. You, courageous home cook, have an advantage over the sandwich-counter guy and the chain bread-boutique grad student: You have the time to deploy a Reuben-preparation technique that will produce uniform heat throughout your sandwich, and all the exquisitely melty cheese and gloriously runny dressing this entails. So. Preheat your fucking oven, and quit with the backtalk.
Now, while your oven is preheating, haul out a good-sized bowl and make Russian dressing in it. This is ridiculously straightforward, so we will embellish it somewhat by making fun of food weenies while we work: Whisk together some mayonnaise (but mew mew mew fresh egg yolks mew m'pew pew!), some ketchup (bork bork bork homemade tomato purée bork!), and roughly 72 gallons of the most ferociously piquant jarred horseradish (clucky cluck freshly grated horseradish cluck clucky cluck!) you can find. Go crazy with the horseradish here. Your completed Russian dressing should make you acutely fearful for your life, just like a real Russian person would; if it does not do that, you have not added enough horseradish yet.