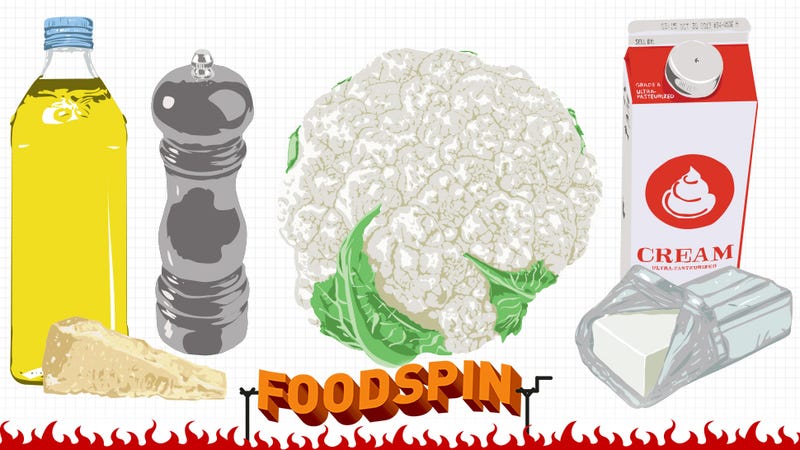 The first thing to do is clear up any misconceptions that the reason to make mashed cauliflower, and not mashed potatoes, is that mashed cauliflower is the more calorically or nutritionally upstanding choice. If that is what you are thinking, stop thinking that, because that is stupid. You're stupid.
There may indeed be some nutrition-affirmative basis for saying that the below foodstuff is better for you—if, say, mashed cauliflower contains some essential or beneficial vitamin or mineral or some such that the potato does not. It's certainly friendlier to the popular low-carbohydrate diets currently acidifying the blood of every white person in North America. However, at least in the preparation you are about to deploy, mashed cauliflower sure as shit also contains a few things that are very, very bad for you (not least among these is a fucking fuckload of calories), and it contains these things because they taste good and will make you happy, at least in the near term, and for this we will forgive the many years of shuffleboard and blue pants they will assuredly sand off the back end of your lifespan.
This is to say that, whether or not it turns out that you can edge closer to your FDA recommended daily intake of riboflavin (or whatever the fuck) via its consumption, the reason to make mashed cauliflower is that it tastes goddamn amazing—wildly different from mashed potatoes, and quite possibly a great deal better if you can detach from the nostalgic familiarity of mashed potatoes, and goddamn amazing. Amazing enough that, frankly, whatever physiological good it may do—whether by supplying some healthful nutrient or averting the carbo-nihilation of starchier potatoes—is nigh irrelevant.
Skeptical? Making a cocked-eyebrow doubt-face? This is why everybody thinks you're a jerk. Let's make some and you can see for yourself.

---
To begin, preheat your oven to 400 degrees. While that's happening, achieve a steamed head of cauliflower. Decide for yourself how you want to make that happen: If you'd like to dump an entire intact head of cauliflower into a steamer pot and steam it for a while, that's fine; if you want to nuke a big bag or two of frozen cauliflower florets, that's also OK.
Steaming an entire intact head of cauliflower is great because it gives you fresh (and thus better-tasting) cauliflower with virtually no work involved: You dump the head of cauliflower into a big pot with an inch or two of water, you clamp a lid on the thing, you crank up the heat, and you walk away for, what, like, a half-hour or so, until the cauliflower is steamed through and you can lightly jab a fork into it here and there with virtually no effort and pretend that you are enacting grisly comeuppance upon Rick Reilly. This is a great option if, like most decent people, you are a lazy, inadequately anthropomorphized bag of dirt, but also for some reason happen to have stumbled across a head of fresh cauliflower when you were neglecting to go to the grocery store for the many housewares and foodstuffs your home critically lacks. The drawbacks are: that this will take a great deal longer than just nuking a couple of dumb bags of frozen cauliflower florets; and that during all this time you will have to keep an eye on the proceedings in case all the water in the pot steams away and your stovetop very hastily starts to resemble a nuclear reactor.