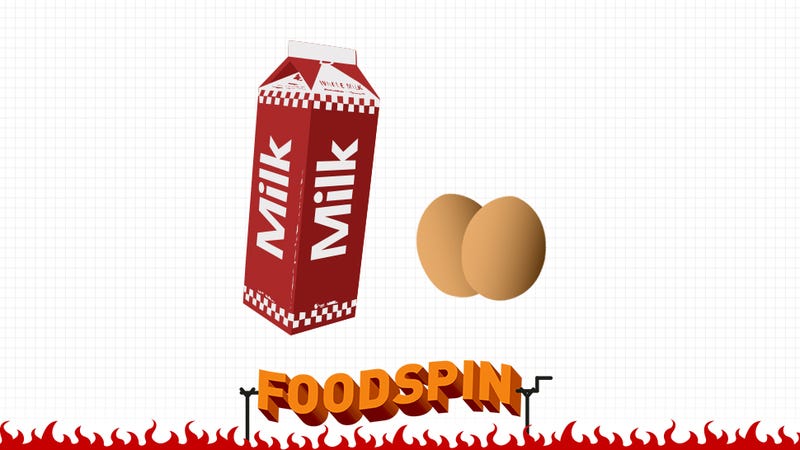 Did you know that people do not all make scrambled eggs the same way? Did you know that they even occasionally disagree about how best to make scrambled eggs? It's true. True and intolerable. True and intolerable and horrifying.
Friends, let's fix this shit. Here are the points of disagreement about the making of scrambled eggs, and here are the final and indisputable verdicts which will settle these disagreements now and forever, or anyway until the robots rise against us in a great whirring and beeping carnival of death and invent their own way of making eggs, which will be dumb and wrong because robots can't even taste or love. Friggin' robots.
Onward!
Scrambled Egg Controversy #1: Where To Scramble The Eggs
That's right: This is an actual point of contention between egg-scramblers. Whether to crack the eggs into a bowl and scramble them there before adding them to the pan, or to crack them directly into the hot pan and then scramble them as they cook.
Each approach has its benefits. Scrambling the eggs in a bowl beforehand generally permits a more thorough and vigorous scrambling, which will whip air into the eggs, which will produce fluffier, creamier eggs in the end. This thorough scrambling also means a more complete integration of white and yolk, which means uniformity of texture and color in the finished product, or close to it. That last bit doesn't matter so much, but hey, maybe you're an obsessive-compulsive maniac, or anyway that is what we're all assuming is the reason for you collecting your pee in mason jars.
On the other hand, cracking the eggs into the hot pan and scrambling them there is a much quicker way of doing things, and easier on your dishwashing mechanism of choice. Also, I dunno, there's just something jaunty and improvisational and cool about scrambling the eggs in the pan. Did your great grandpappy beat his eggs in a goddamn bowl when he was pannin' for gold in the Yukon in Aught-Three? Heck no! He scrambled 'em right in the bean can, over the fire! And he knew a thing or six about livin', I tells ya!
No offense, but, shit on your dumb great grandpappy. He wore a saucepot for a hat and had neurosyphilis and he never found any gold anywhere, and his eggs were dense, boring garbage. Beat your eggs in a bowl beforehand, vigorously and for several minutes, goddammit.
Scrambled Egg Controversy #2: When To Scramble Them
This is less a matter of competing viewpoints and more a matter of some people just being wrong and vampires. Do not scramble your eggs the night before you intend to cook them, unless you are using them as an egg custard for French toast, and even then, beat them again before you dip any bread in them. The air that you worked to beat into the eggs with all that whipping and whisking from before will depart them as they sit, and your finished product will be dense and depressing instead of light and fluffy and wonderful. Beat the eggs right before they go in the pan—literally right up until you are just about to pour them into the pan. Or go to hell.