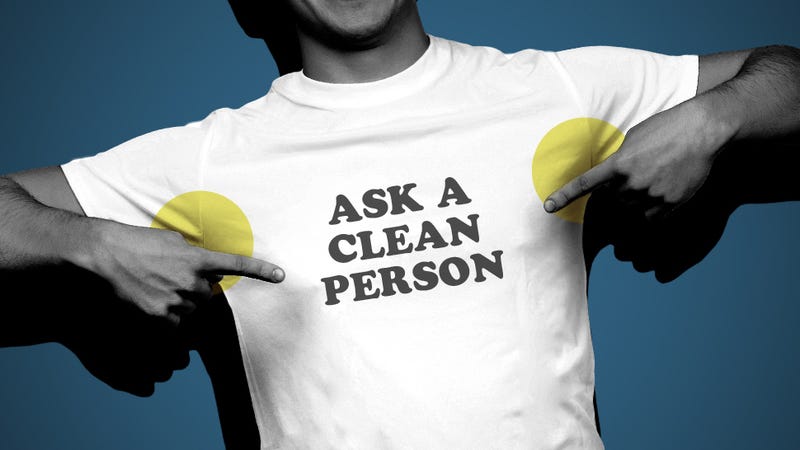 Jolie Kerr is a cleaning expert and advice columnist. She'll be here every other week helping to answer your filthiest questions. Are you dirty? Email her.
Oh pit stains, those yellow blights on the landscape of our favorite white shirts, the source of so, so, so, so, so many sad emails in my inbox. I would suggest a group hug, but that would require that you lift up your arms and I don't want to further traumatize anyone.
(Air kisses, maybe? Headbutts?? Towel snaps??? Towel snaps, totally.)
Before we get into the options and methods and incantations you can employ in pursuit of treating and preventing unsightly underarm stains, we'll talk quickly about the science of why this is happening—WHY, GOD? WHY??—because (1) knowledge is power and (2) science is cool. But mostly because this isn't my first rodeo, and so I know that there will be a million variations (rough count) on the question, "What the heck do I do about these freaking stains?" and I'm trying to spare myself, like, two or three of them.
It won't work. But I am an eternal optimist so ...
Part 1: Science
The science part of things is actually pretty simple, and likely stuff that you already know to some extent. Basically, it's all the fault of our deodorant; or, more correctly, it's the fault of our antiperspirant, which is such an insult, don't you think?
The "why" behind the "WHY, GOD? WHY??" is that in most brands, the primary active ingredient in antiperspirants is aluminum. In deodorant it's generally alcohol, though oftentimes deodorants that are not also antiperspirants contain aluminum. This will become important later, as will the fact that I'm making a distinction between deodorant and antiperspirant.
What happens is this: The aluminum has a reaction to sweat, which is a protein, that causes the vile underarm yellowing that we so dread. Oh also! Your cotton shirts are also made up of protein which makes me pretty sure that the white t-shirt manufacturing community has teamed up with the people at Old Speed Spice Stick Co. Inc. LTD to force you into a new set of undershirts every year.
Because of SCIENCE! I do need to tell you this part before we get into the triage and prevention portion of the proceedings—bleach is absolutely NOT what you want to use on any articles of clothing that are suffering from sweat/antiperspirant/deodorant stains. Bleach will only serve to render the discoloration more yellow, because bleach hates protein the way that Red Sox fans hate the Yankees, but without the benefit of being correct about the fact that protein sucks.
Part 2: Triage
There are a number of treatments that people swear by for pit stains, but let's start with the one I swear by, since this is my column and all. It probably will come as no surprise by now that I'm going to tell you to go in deep with some OxiClean. What can I say? It's not my fault that it's the second coming of cleaning products!
But here's the thing you need to know about Oxi: employing the correct OxiClean technique is crucial. When we're talking about treating new pit stains, sprinkling some Oxi in the wash (hot water for whites is optimal here) will do you just fine. But when we talk about yellow marks that have been set in because you dried the item before the stain was removed, we have to get into more serious work. Which means that it's time for soaking and frottage.
So! Fill up your (CLEAN!) kitchen sink or a bucket or any other receptacle that can hold a body of water. Put in some hot water. Add your Oxi (a scoop will do ya) and swirl things about until the powder has dissolved. Then add your soiled garments, let them soak for about 15 or 30 minutes, then go back in and hit them with some agitation. There are two ways of doing this: (1) by rubbing the fabric against itself (frottage, holla!) while the garment is submerged in the cleaning solution or—and this is what you'll use on truly tough stains—(2) by employing a laundry brush.
If you find that Oxi doesn't work for you, or you're just looking for something a little less commercial, there are a few other options for you to consider.
Sunshine: Good old sunshine will bleach those stains right out. It's not ideal for colored clothing that you don't want to fade, though.
White vinegar: Make a solution of 1 tablespoon white vinegar to ½ cup of water; soak the soiled shirt in that solution for about a half hour before laundering as usual.
Hydrogen peroxide, two ways:
(1) Combine 1 part water, 1 part hydrogen peroxide and 1 part baking soda. Mix into a paste and apply to the stains (a spoon is good for this), then, using your fingers, rub the paste into the shirts. Allow the solution to sit for 30 or so minutes before laundering as usual.
(2) Fill a small bowl with hydrogen peroxide and soak the stained part of the shirt for 30 or so minutes before laundering as usual.
Aspirin: Crush up two to three aspirins in hot water, stir to dissolve and use as a stain pre-treatment. I know. It's weird. But you never know when you'll be in a pit pinch with only aspirin on hand.
Pre-treating: If you can commit to this level of discipline, the best thing you can do for the lifespan of your shirts is to spray the pits down before you toss 'em in the hamper using a stain pre-treatment product like Zout, or OxiClean—really anything that features an enzymatic element will do you right.
Rinsing: If you're in a bind with nothing else on hand, go ahead and rinse the armpits of a shirt you've just sweated through and are taking off with cold running water. At the very least it will rinse away the perspiration and push out a lot of the build-up that can cause staining. This isn't the best approach for day in, day out problem solving, but can be helpful to know about when you're on the road and away from your usual arsenal of laundering products.
And finally, allow me to introduce you to one of my all time favorite cleaning products, bluing. BLUING! It turns things blue! (I'll pause now to give you time to work through all the "I'm afraid I blew myself" jokes.) Which is an excellent thing to do with formerly white clothes that have taken on a yellow cast—the blue tint counteracts the yellowing, rendering the clothes bright white to the eye. We talked a bunch about bluing last week as part of our discussion on how to get dingy sheets looking crisp and white again, so if you'd like to learn more about this delightful product please step this way.