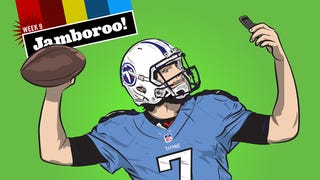 Drew Magary's Thursday Afternoon NFL Dick Joke Jamboroo runs every Thursday during the NFL season. Email Drew here.
By now you know that Titans rookie QB/sacrificial lamb Zach Mettenberger tweeted out a few harmless selfies last week before his first career start against the Texans. Well, Texans All-Grit and three-Welkers-in-one J.J. Watt didn't take too kindly to that kind of ME FIRST GLOREE BOY behavior, so he sacked Mettenberger on Sunday and then pantomimed taking a selfie, even though Watt himself has taken many selfies in the past, thus contradicting himselfie. Then he ranted on about the whole selfie shit after the game, just to son Mettenberger a little bit more…
God, he even threw in the full "National Football League" in there. All this selfie-on-selfie crime led to reader Jarret emailing this…
In light of JJ Watt's mocking of Zach Mettenberger for taking a selfie, I think it's time we take a moment to recognize Watt as a prick who embodies everything old media types like Gregg want the NFL to be. Namely, a boring tryhard who thinks taking literally 10 seconds to snap a selfie is some sort of dishonor to the game. Fuck JJ Watt. Everything he says sounds like it was written by the Wrangler Jeans PR team.
Jarret is right. Fuck J.J. Watt. A selfie is not a war crime. Thanks to Selfies At Funerals and Seflies at Serious Places and ABC's sitcom named Selfie and #BRANDS like McDonald's deploying the term as some kind of massive dragnet for today's cool hipster youth, self-photography has been demonized to a completely insane degree. Saying the word "selfie" or taking one is like sending up an Albomsignal now, a distress call to the old fogies of America to gather and collectively wring their hands over the self-involvement of today's youth.