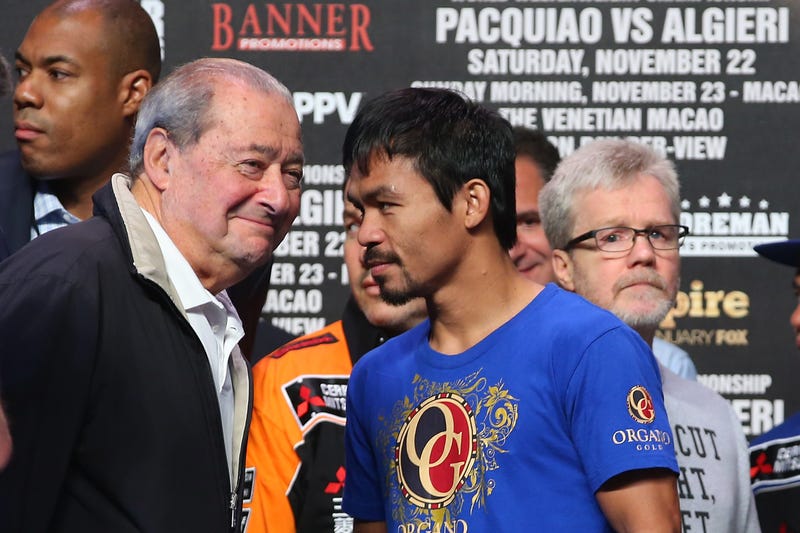 For years, the biggest obstacle to a Floyd Mayweather vs. Manny Pacquiao superfight has been the fighters' management—Pacquiao's promoter, Bob Arum, in particular.
Arum, who promoted Mayweather from his debut just up to the point where he was reaching superstardom (including a joint appearance on HBO's Arli$$), fell out badly with his former charge after Mayweather hooked up with his current manager, Al Haymon. The two have stubbornly refused to do business since Mayweather bought his way out of his contract in 2006. Last Friday, though, Arum told the New York Post that the negotiations for what would be the richest fight in boxing history are moving along smoothly and that he expects everything to be done shortly. This makes it very strange that Arum is apparently trying to sabotage the megafight.
That may seem unlikely, but what other conclusion could one draw from Arum's loaded suggestion to the Post that the delay making the fight is because there existed "a question as to whether Floyd really wanted to do the fight or not"? Make no mistake, Arum may be loose-lipped, but he's not a fool. He knows that his comment can only be interpreted one way, as a charge that Mayweather is afraid to fight Pacquiao. And with Floyd and his tender ego still holding all the negotiating power as the reigning pound-for-pound champion and pay-per-view king, it's the sort of comment that can only hurt Pacquiao's chances of getting the fight he's lusted after for years.