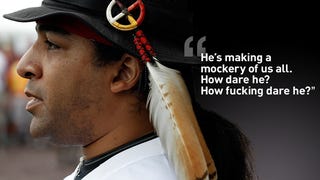 Mark One Wolf was, for a time, a favored native in Dan Snyder's fight to save the "Redskins" nickname. "Native American backing team name is VIP at practice," read a Richmond Times-Dispatch headline. It was accompanied by an Associated Press photo of One Wolf in profile, as if to echo the team's logo. But that was July. Now folks on both sides of the squabble agree on one thing: One Wolf makes poor Liz Warren look like Pocahontas.
"He is the 21st-century version of William 'Lone Star' Dietz," says Toby Vanlandingham, an anti-name activist from the Yurok Reservation in California. Dietz was the former Redskins coach whose reputed Sioux heritage inspired the team's nickname, according to the save-the-name camp, even though most evidence available today suggests he was neither Indian nor the inspiration.
"Mark One Wolf is a fucking phony," says ReGina Zuni, an ardent pro-namer living on the Isleta Pueblo reservation in New Mexico. Zuni says she's so convinced that One Wolf's not really an Indian that she emailed the team to warn them to stay away from him, lest they get caught using another—yes, another—poseur.