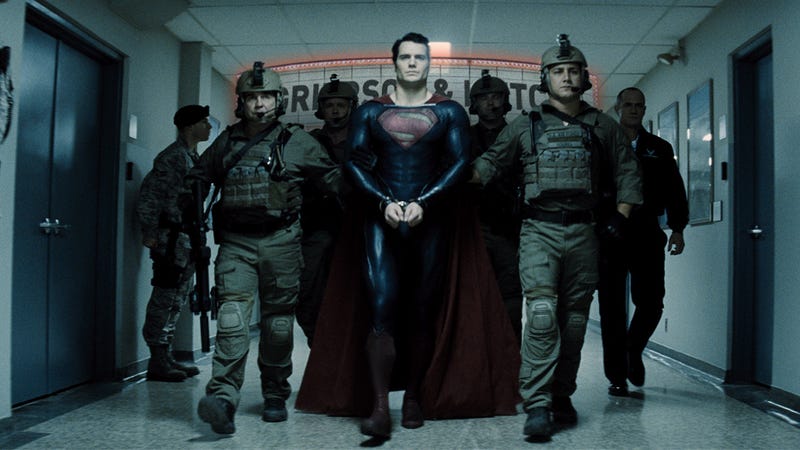 1. On the surface, it seems obvious why you'd attempt to reboot the Superman franchise using the Christopher Nolan-Batman model. Nolan's Dark Knight films are terrific, brooding and powerful, and, oh by the way, they grossed a combined $2.5 billion worldwide. But their trying to make a tortured-superhero Batman movie out of Superman was, frankly, a lousy idea. Batman is a hero, sure, but a twisted, human one; by the end of the second film, you're legitimately wondering, in name of his personal vengeance and obsessions, whether or not Batman is doing more harm than good. That is not who Superman is. Superman is brightness, goodness, a shining example for humanity to aspire to. Superman needs to have a light touch. Man of Steel does not have a light touch. Man of Steel is loud and bludgeoning and exactly the wrong kind of Superman movie to make.
2. The movie starts out promisingly enough, with a vast, lavish destruction-of-Krypton sequence that is impressively imagined and conceived. (It features better sci-fi battles than Star Trek Into Darkness, that's for sure.) And, somewhat surprisingly, it also gets the boy-in-Smallville bits right, with Kevin Costner and Diane Lane quite strong as Pa and Ma Kent, trying to figure out what to do with this god they have living in their house. It casts Lois Lane well too, with Amy Adams a stronger, smarter, more aggressive Lane than the wimpy damsel played by Kate Bosworth in Bryan Singer's Superman Returns.
3. Unfortunately, that's about the only way Man of Steel is better than Superman Returns. This movie doesn't understand Superman at all. There is no wonder here, no awe. In the world of director Zack Snyder (300, Watchmen), Superman isn't a beacon for mankind; he's a fighting avatar who can fly and do cool shit with his eyes. There is a rather stunning lack of humor or even joy in Man of Steel, no winks at one of America's most iconic figures (a large chunk of the movie takes place in Canada), no Christopher Reeve-esque charm and bumble. Henry Cavill, who plays Superman, is certainly muscular and handsome enough for the part, but I'm not sure what the point of having someone just glower and flex. He's Superman. The point is that he doesn't need to look tough. Snyder directs Cavill to act like he's in 300.