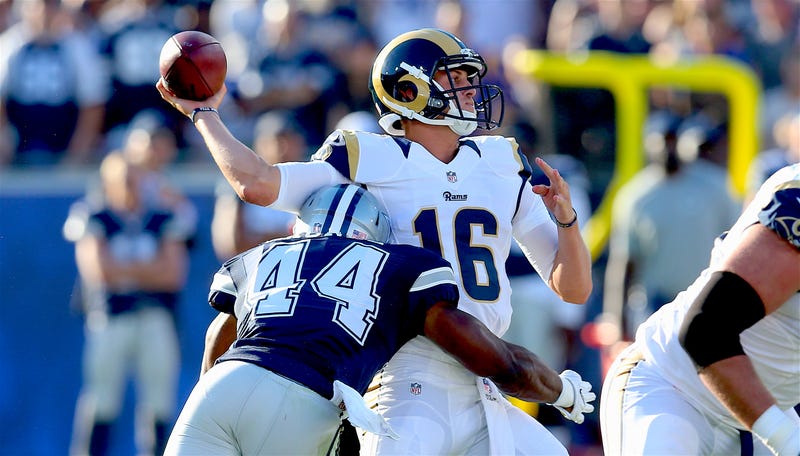 The Rams broke the bank to trade up for Jared Goff. On Monday night, the franchise's first game since moving back to Los Angeles, the starting quarterback will be...Case Keenum. But if Keenum gets hurt or is ineffective, the Rams will turn to...Sean Mannion. Hmmm, OK.
But if Mannion also gets hurt, lining up under center will be...huh, the punter, Johnny Hekker. Says here Jared Goff isn't even going to dress for Week 1.
With the caveats that Goff is expected to be the quarterback of the future, not of Monday night, and that plenty of excellent QBs have not been ready or handed the reins out of their first training camps, it is surprising, and maybe a little worrying, that Goff is not ready, and apparently not close to ready. Rams coach Jeff Fisher said last week that Keenum is the Week 1 starter, and announced yesterday that Mannion, the 2015 third-rounder, will be the backup.
Fisher attempted to explain.
"Jared's had a great camp, so has Sean. Case is clearly our starter. I think Week 1 just to settle things down and let Jared go through the experience it's probably going to be, like I mentioned last week, it's probably going to be three and inactive," Fisher said. "That's just how it goes. And then next week we'll flip them. I just want him to feel and sense and absorb the pressures of Week 1. He's going to be a great player. As we've said from Day One, we're not rushing him. We don't have to rush it. I'm really happy with where he is right now. It's unfair to compare him to anybody else. I know Philly has got their situation, it's a little different and trading Sam so Carson is going to start, but you know Jared is in a good place right now. He's done some really good things, so I'm really pleased with his progress."
Parse that all you like, but the closing point—that anyone in the Rams organization is happy with how Goff is coming around—is not remotely close to a truth.
From what we've seen on the field—22-for-49 for 232 yards, two TDs, two INTs—Goff has not been good. His practice and study and film-room performances are harder to evaluate from here, but despite Fisher's wishy-washy explanation, Sean Mannion is closer to NFL-ready than Goff is right now.