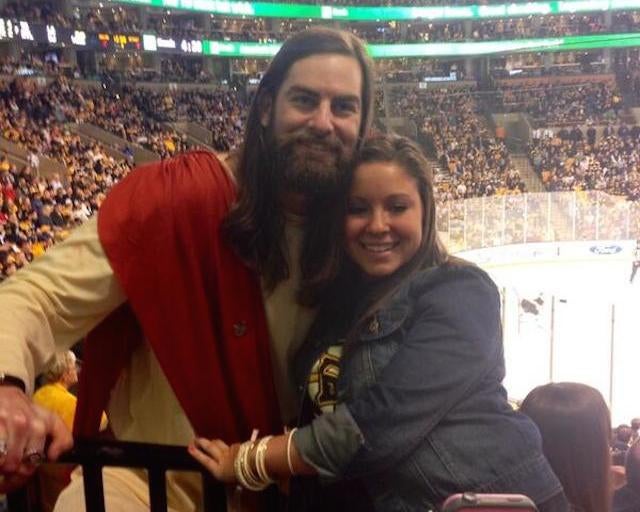 The return of Jesus occurred at TD Garden, of all places. He showed up at the Red Wings-Bruins game, blessing everyone with his presence.
OK, so it's actually a guy who goes by "Thor" on Twitter. (He's pretended to be Jesus before.) At the last minute, someone gave him a ticket to today's Bruins game, so he wore his getup. An Easter miracle!
Jesus is at the bruins game 😂🙏 pic.twitter.com/vV9XIJT7T2

— Maddie Hutchinson (@m_hutch811) April 20, 2014
He was even named fan of the game, because if Jesus is in your arena, of course he's going to be the fan of the game.
Bruins fan of the game: Jesus @abbi_morseee219 pic.twitter.com/OLefawV0e2

— Nicole Grady (@nicole_grady19) April 20, 2014
At some point, Jesus was escorted out of the lower seats. According to the girl who took this Instagram video, Jesus was going up to random people and shaking their hands. Our best guess: Jesus wandered down into a nicer section and got caught. (If he was still there in the third period to be the fan of the game, he presumably wasn't fully kicked out.) The security guard seems humored by the whole event.
Top photo via