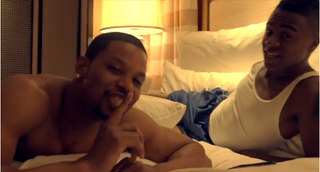 Lost in yesterday's important news was this "SUPER WORLD EXCLUSIVE" from MediaTakeOut: Kerry Rhodes kissed a dude on the head. And not just any dude, but a dude who is said to be Rhodes's assistant, and gay. [Update: We've taken down MTO's photos. See note at the bottom.]
MTO ran photos of the two last week—sans kisses—which prompted Rhodes to tell TMZ:
"Photos have been circulating of my former assistant and I that have caused some rumors regarding my sexuality, and I wanted to address the situation."

Rhodes then says flatly, "I am not gay."

Rhodes explains: "The shots were taken during a past vacation in a casual environment with my entire business team."

Rhodes says when it comes to being supportive of gay professional athletes coming out, he's on Magic Johnson's team: "I know a lot of people are recently talking about athletes struggling to come out to their fans right now, and I support them, as well as wish those individuals comfort."
(We pause here to call into question the credibility of both outlets, not because of their gossipy approaches, which we laud, but because TMZ called Rhodes an "NFL STAR" and MTO called him a "Top NFL Superstar." He was cut by the Cardinals a month ago and has not caught on elsewhere.)
The NFL media have spent the past few months wondering whether the league is ready for a gay player—Mike Freeman reported that one might be coming out soon, and Brendon Ayanbadejo said four gay players might come out soon, although he later walked that back.