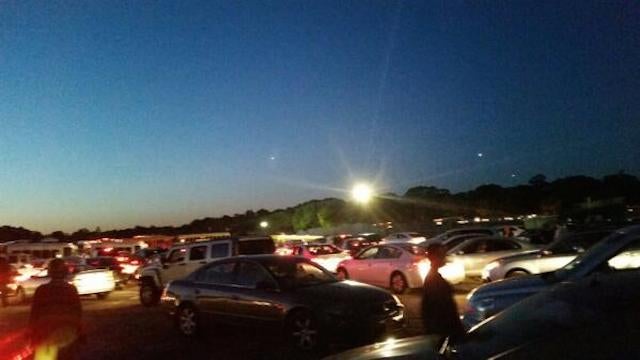 The parking lot at the Belmont Stakes, after a bid for the first Triple Crown in 36 years, is a mess of people, automobiles, and dirt. It was a huge event where over 100,000 people reportedly watched California Chrome come up short. Now they all want to leave and there's no lighting, no employees or police directing traffic, and no rhyme or reason. It sounds like a shitshow.
Belmont blue parking lot is a disaster. Hundreds of idling cars. No rhyme or reason to where people are going. People can't find their cars.

— Jim Baumbach (@jimbaumbach) June 8, 2014
I walked around with some women employees trying to find their car. They've been at it nearly two hours.

— Jim Baumbach (@jimbaumbach) June 8, 2014
Worst part: no lights, no employees, no security, no police, no concrete. You're on your own. Unacceptable for a major event.

— Jim Baumbach (@jimbaumbach) June 8, 2014
People straight up leaving their cars since there hasn't been movement in about half hour. I'd sleep here were I not afraid for my life.

— Laura Albanese (@AlbaneseLaura) June 8, 2014
The Belmont parking lot is at a standstill. It looks like a dirt-covered refugee camp out of a zombie apocalypse.

— Laura Albanese (@AlbaneseLaura) June 8, 2014
The Phil Collins version of You Can't Hurry Love should be outlawed. Give me The Supremes. And get me out of this Belmont parking lot!

— Roger Clark (@RogerClark41) June 8, 2014
Hour 3 of @TheNYRA Belmont abandonment in parking lot. Still no way out. We are about to elect our own government.

— Rob Westervelt (@slakboy) June 8, 2014
If I perish out here in the Blue parking field, please feed my cats. #Belmont

— Sherry Ross (@SherryDarlingNJ) June 8, 2014
And if you thought taking the Long Island Rail Road—which carried a record 33,000 passengers to the track—would be better? Slow down.
Line to get to LIRR leaving Belmont Park. A cop just said the trains were closed. The best way out is on horseback.. pic.twitter.com/Vx65r5IfDG

— Antoine Gara (@AntoineGara) June 8, 2014
.@LIRR how about tens of thousands of people waiting to get a train at Belmont? No service update about that? joke! pic.twitter.com/zLF5KHeqzK

— Philip Toscano (@PToscano) June 8, 2014
This all comes on the heels of the transit nightmare that was the Super Bowl at MetLife stadium. In both cases it seems authorities have been woefully underprepared to deal with the crush of people trying to get into and out of a major sporting event and royally fucked the public they are supposed to serve.