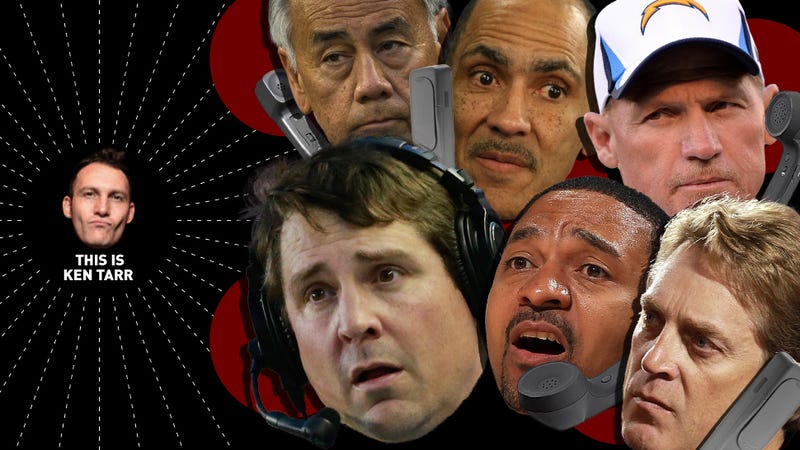 [Update, Dec. 9: Tarr has been arrested and charged with felony eavesdropping.]
Ken Tarr reached out to us first. Without any prompting, this was the email we received from him yesterday:
From: Kenny Tarr
Sent: 4:22 PM EDT
Subject: Hi I hoaxed Tony Dungy
call me [phone number redacted] Here is a video of me offering Mark Jackson the Lakers job. It is a matter of time till I make headline news again with my sports hoaxes.

Here are my other entertainment related hoaxes. http://www.villagevoice.com/2013-06-05/new…
There was no video attached. I called the phone number. Tarr and I had the first of two phone conversations yesterday. A total of 17 minutes elapsed between the end of that first conversation and the start of our second. As soon as I got him on the line again—and before I could even ask him a question—Tarr told me what he had done in the meantime.
"I just left three messages for the San Diego Chargers, and I'm expecting to hear back from them at any moment," he said. "I want to hear what you have to say, but I'm offering John Pagano interest in the University of Texas job. I'm offering Ken Whisenhunt something, uh, I just wrote down. And my next thing is, I'm trying to reach Will Muschamp and just offer him some defensive coordinator position for some small school, to see if he gets insulted or not."
This is what Ken Tarr does. He's a 32-year-old college dropout who creates hoaxes that ripple out into the world beyond his Los Angeles home. His method is simple: He calls the offices of major companies and leaves the right voicemail message for the right person and waits for that person to call him back. He gained a measure of fame a few months back when the Village Voice chronicled his ability to fabricate storylines that would get him onto a variety of daytime television shows, which he would then sabotage. In recent weeks, Tarr has turned his attention toward sports.
He claims to be the prankster who caused a minor shitstorm in recent days by phoning Tony Dungy and Jack Del Rio to offer them the head coaching position at USC. Tarr pulled off the stunt so well that Dungy went on The Dan Patrick Show on Monday and admitted that USC had contacted him. Which, in turn, led USC to issue a statement acknowledging that an impostor had called Dungy, and that whoever it was had also reached out to the Denver Broncos to gauge interest.