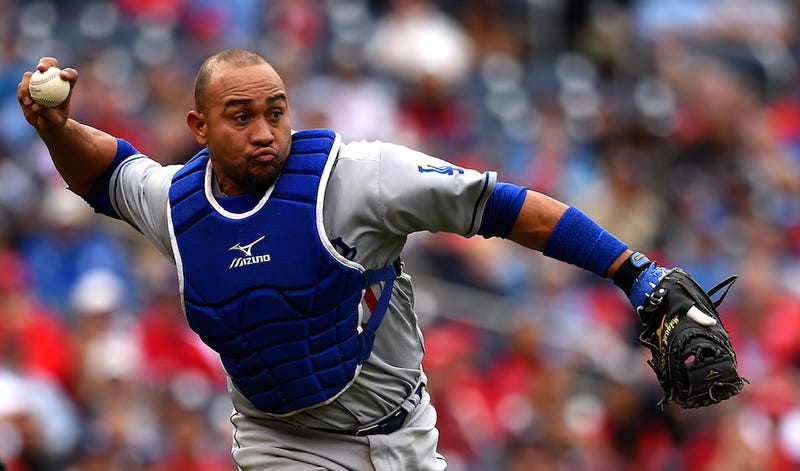 Dodgers infielding prospect Alex Guerrero and catcher Miguel Olivo—who are currently teammates on the AAA affiliate Albuquerque Isotopes—got into a fight in the dugout at their game today. The brawl was so heated that Olivo apparently bit off part of Guerrero's ear.
Salt Lake-Albuquerque game delayed briefly in the 8th inning. Fight between Isotope teammates seems to have broken out in the dugout.

— Steve Luhm (@sluhm) May 20, 2014
PCL fight between teammates: Might have involved Albuquerque SS Alex Guerrero and C Miguel Olivo. Neither now playing ...

— Steve Luhm (@sluhm) May 20, 2014
Guerrero's agent Scott Boras confirmed the incident in the weirdest way possible.
Part of Alex Guerrero's ear was "displaced by a bite" during altercation with Miguel Olivo, according to Guerrero's agent, Scott Boras.

— Jon Morosi (@jonmorosi) May 20, 2014
Alex Guerrero is having plastic surgery on his ear right now, Scott Boras said.

— Jon Morosi (@jonmorosi) May 20, 2014
Police have gathered evidence about the incident and collected witness statements, according to Boras.

— Jon Morosi (@jonmorosi) May 20, 2014
Update: Salt Lake Bees blog Sting 'Em Bees has a few photos of the dugout incident involving Olivo and Guerrero, along with some thoughts on why the fight went down:
It goes like this…….The Isotopes defense had their struggles against our base runners. If I were managing my Comp team I would call it laziness…. The Bees advanced runners multiple times because after plays were seemingly over, Isotopes players would wander away from their base and our Bees runners would advance with very little opposition.

A couple times the runners advanced with the ball in C Miguel Olivo's hand. I got the feeling he was upset that no one was talking to let him know there was a runner, and when they DID scream "runner!", no one was at the bag to cover a play. …. That is certainly a cluster of plays that got under the skin of Olivo.

For the life of me I can't figure out what started what happened next…
Alex Guerrero luego de la mordida de Miguel Olivo en AAA. #MiLB pic.twitter.com/C0ROZuiGla

— Rolando E. Fermín (@RollingJr) May 20, 2014
Check out the rest of the photos here.
Photo: Getty