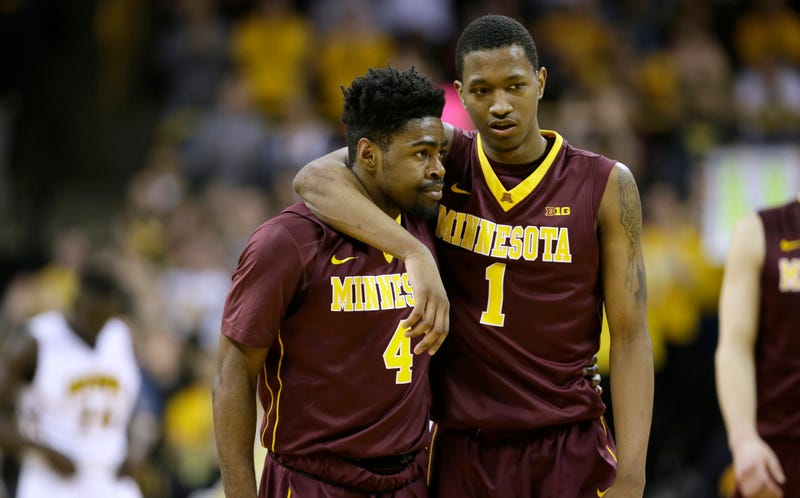 Before yesterday's loss to Illinois, Minnesota announced that three Gophers players would be suspended for the game for an unspecified violation of team rules. As always, you have to go to the message boards for the details.

Leading scorer Nate Mason and freshmen Kevin Dorsey and Dupree McBrayer (pictured above) were benched for the game, with no immediate word on the length of their suspension—or the reason. In a brief statement, Gophers head coach Richard Pitino said:
"With the privilege of being a member of the University of Minnesota basketball program there are expectations and standards to which we hold our student-athletes accountable, and they have failed to do so."
On Friday evening, Dorsey posted two videos to his Twitter account. They were deleted within 30 minutes, and Dorsey deleted his account soon after.
The posters at the GopherHole.com message boards are on it. Each video reportedly showed Dorsey and another man engaged in a sex act with a woman. It's apparently not clear whether the second man in each video was the same, or whether it was two separate women, and only Dorsey's face was clearly shown.
After the Gophers' 84-71 loss, Pitino spoke obliquely about the suspensions.
"Obviously, culture and doing what's right is extremely important to myself, our staff and our players. I wake up every day, and I'm extremely grateful for the opportunity that I have to coach in an awesome basketball conference and to coach in a place where I consider my dream job. We're going to do things the right way. Tonight wasn't about wins and losses, it was about making sure our guys understand that this thing is bigger than just basketball. And we're going to do what we believe is right. Unfortunately you may lose the battle, but you're going to win the war. Today was unfortunately not as much about wins and losses but about the culture of our program. That's something we work at every single day. And it's extremely important to what we're all about."
---