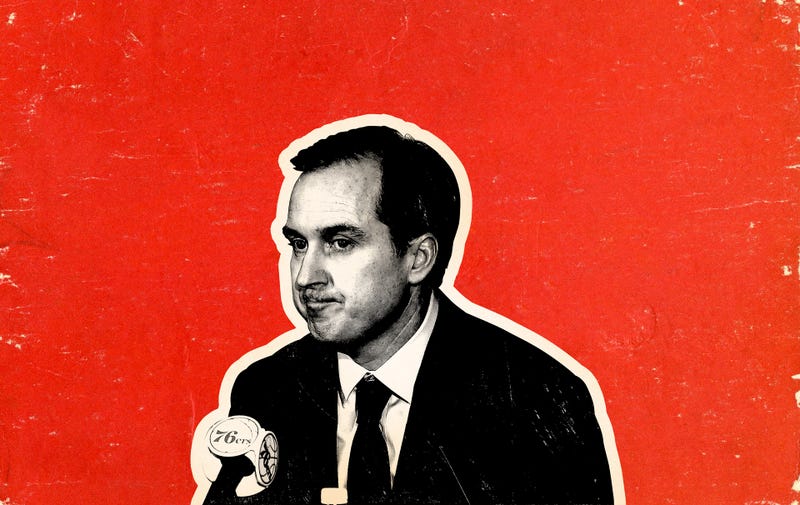 In April of last year, Philadelphia right-wing talk radio host and Daily News columnist Dom Giordano cooked up a hot take comparing now former Philadelphia 76ers general manager Sam Hinkie to Bernie Sanders. It ended with an almost Breitbartian non sequitur: "Hinkie robbed area basketball fans of three years of competitive basketball. If elected, Sanders would rob us of a lot more."

This is a classic hack columnist move: Here are two things I don't like, therefore they are the same. But Hinkie's Process is antithetical to socialism. Its strategies explicitly are copied from banks, which Hinkie openly admires; its actual basketball players are treated like widgets. (Hollis Thompson was the only Sixer on the roster for the duration of the Process, and he was waived this season.) It doesn't get less socialist than Stanford Graduate School of Business, from which Hinkie graduated and which should've been shuttered after Hinkie's insane resignation letter. In short, Giordano's take is dumb as shit.

Except: Many of America's ascendant socialists also are ardent Process Trusters. The Philadelphia chapter of the Democratic Socialists of America is filled with Hinkie fans; here's a sign from an anti-Trump rally in Philly saying "Trust The Process, Not The President." Here's Bernie Sanders policy staffer Billy Gendell copping to being a TTPer. And no one Ts the P more than Larry Website, who chairs the Central Jersey chapter of the DSA and does recruiting and outreach for DSA national. He's tweeted some variant of his faith in Hinkie dozens of times already this year. 
I asked Jacobin magazine editor, publisher, and founder (and Knicks fan) Bhaskar Sunkara why socialist NBA fans were so quick to embrace a disastrous strategy of losing basketball games on purpose that was ostensibly based on investment banking. Sunkara said that he doesn't want the Knicks to tank—that "as a basketball fan, and as a socialist, I actually do believe in winning any reforms you can get today in the here and now ... I'd rather take that two-percent chance that the Knicks get the eight seed and win it all than [have] a lottery pick."

But Sunkara loves the ideas that surround Hinkie's failed team-building on several levels. "I feel like the tagline for Jacobin should be 'Trust the Process,'" he told me. "There is something about the slogan itself that resonates with me as a socialist. The struggle is ahead. Us trying to carve out a space in American politics for socialist ideas, in the long term trying to build an opposition movement that could hopefully one day, decades down the road, contend for power, requires a very patient strategy. And our time horizon extends way beyond next season, or next year."

This was the part of Hinkie's strategy that bought him (and many failed GMs before him) years and years of job security: If we're not trying to win right now, you can't judge me on the outcomes on the court. You just have to trust the process. This is bullshit out of the mouth of a man trying to lose basketball games on purpose; it rings truer when Bernie Sanders says that a political revolution is required before democratic socialism can be realized. But Sanders also is fighting like hell to win contests in the current conditions. Like Lenin (and Steve Bannon), Hinkie wanted to heighten the contradictions so he could rebuild after a total collapse.

Sunkara accurately identified a reason why Hinkie was able to attract so many fans, and it's one that tracks pretty well with why Trump was able to beat Clinton in November. He prefers the Hinkie-era Sixers to the rudderless Knicks: "People are like 'I don't mind what my team is doing, because at least it seems like they have a plan.' Compare that to the Knicks in the Isiah Thomas era where it was like, 'Oh god, no one knows what they're doing.' Or even right now, our front office has gone back to that, where no one has a plan."