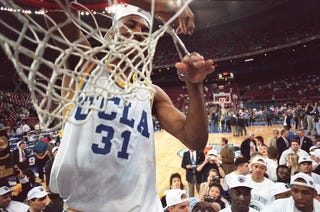 A federal judge has ruled in favor of the plaintiffs in the Ed O'Bannon v. NCAA antitrust case, knocking down the restrictions against college athletes profiting off their name, image, and likeness.
U.S. District Judge Claudia Wilken's 99-page decision is at the bottom of the page. Here's the money quote:
Consistent with the less restrictive alternatives found, the Court will enjoin the NCAA from enforcing any rules or bylaws that would prohibit its member schools and conferences from offering their FBS football or Division I basketball recruits a limited share of the revenues generated from the use of their names, images, and likenesses in addition to a full grant-in-aid.
This isn't a day of jubilee, though:
The injunction will not preclude the NCAA from implementing rules capping the amount of compensation that may be paid to student-athletes while they are enrolled in school; however, the NCAA will not be permitted to set this cap below the cost of attendance, as the term is defined in its current bylaws
The order nods in the direction of what has become the consensus solution to the athlete-compensation issue: a trust fund, payable to the athletes when they leave school or when their eligibility is up. This idea has the support of a number of NCAA critics, among them Ramogi Huma, founder and president of the National College Players Association, but its embrace—and its cameo in Judge Wilken's decision—is a little distressing to people who abhor the paternalism at the heart of the NCAA model. Here's Wilken:
The injunction will also prohibit the NCAA from enforcing any rules to prevent its member schools and conferences from offering to deposit a limited share of licensing revenue in trust for their FBS football and Division I basketball recruits, payable when they leave school or their eligibility expires. Although the injunction will permit the NCAA to set a cap on the amount of money that may be held in trust, it will prohibit the NCAA from setting a cap of less than five thousand dollars (in 2014 dollars) for every year that the student-athlete remains academically
And at one point, in the manner of many would-be reformers, the judge all but takes the vulnerable young athletes under her wing to shield them from "commercial exploitation," as if that horse wasn't already out of the barn and starting at safety for Alabama.