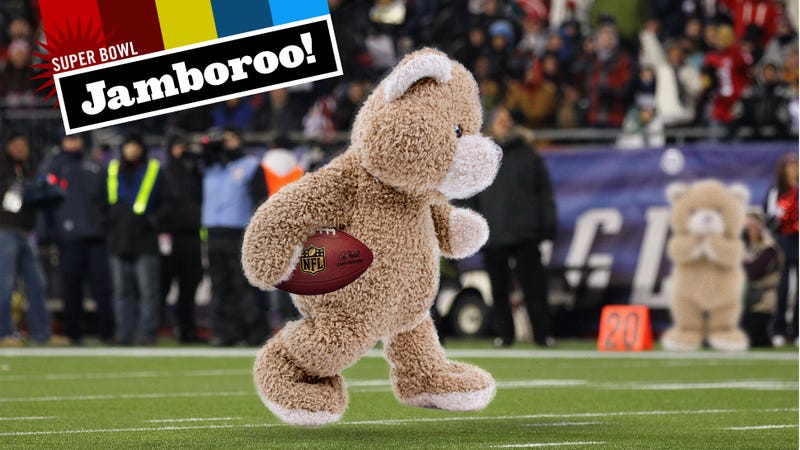 Drew Magary's Thursday Afternoon NFL Dick Joke Jamboroo runs every Thursday during the NFL season. Email Drew here.
For all the bitching you and I (mostly me) do about the state of the modern NFL—the concussions, the stadium boondoggles, the officiousness of Roger Goodell, the terrible referees, the vague implementation of new safety measures, Chris Berman's continued existence—this is not a business that has suffered much for its transgressions. Ratings for the divisional round were up from last year. Ratings for the two title games were also up. Not only were they up, they were up significantly, and it's not like last year's NFC title game made for lousy television.
It's entirely possible that phasing out big hits and creating a kinder, gentler brand of football has only served to make the sport MORE telegenic, and more likely to appeal to the ladyfolk and such and such. All part of Roger Goodell's nefarious plan. Soon he will eliminate tackling and extend Breast Cancer Awareness sock month another six weeks and ratings will shoot up 97%. Turns out we like our football defanged. We like all the new stuff about football that football people don't like.
I wrote about the supposed War on Football a while back here at Deadspin, and for people who think that the sport is under siege, the War on Football represents yet another step in the ongoing softening of America. We can't lead with our heads because we're pussies. We can't let junior play pee wee football because we're scared Little Timmy will get hurt. The media wants gay players to be part of the sport because the gays just have to be a part of everything now, don't they? All of the arguments we have had about our collective national manhood—sexuality, bullying, rape, corruption—have seeped into our manliest sport this year in the form of Chris Kluwe and Jonathan Martin and the Missouri football team and on and on.