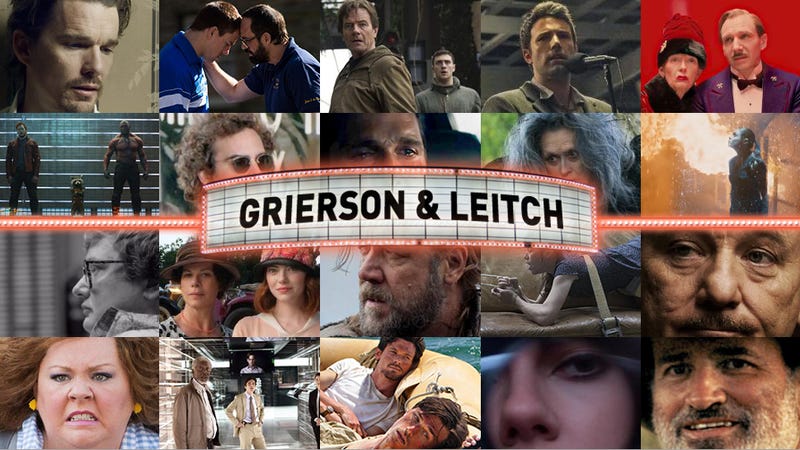 Now that all the year-end best-of lists are finally over, it's time for some lists that look forward rather than backward. 2014 has a lot to live up to; 2013 was one of the best movie years in recent memory.
Glancing over the release schedule, there are of course tons of sequels and remakes and another Transformers movie. But there is still plenty of room for hope ... even in some of those sequels. So: Here are the 20 movies in 2014 we're most looking forward to.
Boyhood.
Richard Linklater is the most fascinating, oddly unheralded American filmmakers working, and this year, we should finally see the culmination of his decades-long passion project. Back in 2002, Linklater began a film starring Ethan Hawke and Patricia Arquette as parents of a six-year-old boy ... and he has returned every year to film a few scenes with the couple (as their marriage disintegrates) and their son, up until last year. It's a brilliant idea for a movie—to watch how a boy deals with a dysfunctional family as the years go on in an almost literal sense—and Linklater, as the Before Sunrise films have show, has the chops and the patience to pay it off as more than a gimmick. We can't wait.
Foxcatcher.


Originally slated for Oscar season but postponed for various reasons—a common occurrence this year; the high quality of 2013 scared off a lot of potential award contenders—this Bennett Miller (Moneyball) film features Steve Carell in a dramatic role as schizophrenic billionaire John du Pont, who was a wrestling fanatic who supported Olympic hopefuls but went slowly mad. This real-life story has Channing Tatum and Mark Ruffalo as wrestling brothers who work with the scary Du Pont, with tragic results. Carell, heavily made up, is a terrific actor just waiting for the right dramatic role, and the true story is both wild and deeply sad. Done right, this is a tough story to screw up.
Godzilla


We weren't the biggest fans of director Gareth Edwards' last movie, the sci-fi/immigration-allegory indie Monsters, but he showed he could do scary creatures on a budget. Money probably won't be so much of an issue with Godzilla, which appears to be a whole lot less jokey than Roland Emmerich's 1998 version. Plus, look who's in it: not just Bryan Cranston, but Aaron Taylor-Johnson, Elizabeth Olsen, Juliette Binoche and Sally Hawkins. It's like the cast of a Woody Allen ensemble stumbled into a monster movie.
Gone Girl
Neither one of us have read the book, though enough smart people have told us it's good that we believe them. We're aware of the widespread concerns about Ben Affleck as the lead role—though we don't know why the concerns are there, because, again, haven't read the book—but none of that is particularly worrying to us, because this is directed by David Fincher. And in Fincher we trust. Even if he appears to have cast Tyler Perry in a main role that doesn't feature wearing a dress.
The Grand Budapest Hotel


You've certainly made up your mind about Wes Anderson by now, so if you see "Wes Anderson" and groan, well, then yes, you can probably skip this one. But we're of the belief that Anderson's work, for all its familiar tropes and studied fussiness, is actually growing and deepening—he's having more trouble hiding his heart. This one has the whole troupe back together (Bill Murray, Jason Schwartzman, Edward Norton, Tilda Swinton, a thousand others) surrounding a story involving a hotel concierge played by Ralph Fiennes and his ward... and all sorts of eccentric characters and happenstances. Again: If you like Anderson (and we do), you'll be there opening night. If not, you couldn't be dragged here.
Guardians of the Galaxy.
Marvel's mixture of comic-book action and knowingly dopey humor hasn't gotten old yet, but Guardians of the Galaxy is definitely the company's biggest gamble. Without the high-profile visibility of an Iron Man or Thor, the titular ragtag bunch of heroes, led by Parks and Rec's Chris Pratt (who was a welcome addition to Her and Moneyball,and almost made Delivery Man tolerable), are the underdogs of the Marvel universe. It could be inspired, or it could be a RIPD-like train wreck.
Inherent Vice.
Paul Thomas Anderson adapting Thomas Pynchon? Sure! The 2009 Pynchon novel about stoned detectives in the early '70s gets the Anderson treatment, though it's worth noting that There Will Be Blood was technically an adaptation of Upton Sinclair's Oil! but wasn't, not really. Point is: Anderson tends to go his own way with these things. Joaquin Phoenix, Reese Witherspoon, Josh Brolin and Owen Wilson are the stars here, but the real star, as always, is Anderson. We can't wait to see what he comes up with next.
Interstellar.


We know Interstellar is about time travel and parallel dimensions. But at this point, the most important thing we know is that it's directed by Christopher Nolan, who just about single-handedly saved the summer blockbuster. Interstellar won't arrive until November, which will give us all plenty of time to dissect every second of this gorgeous teaser until the next trailer pops up.