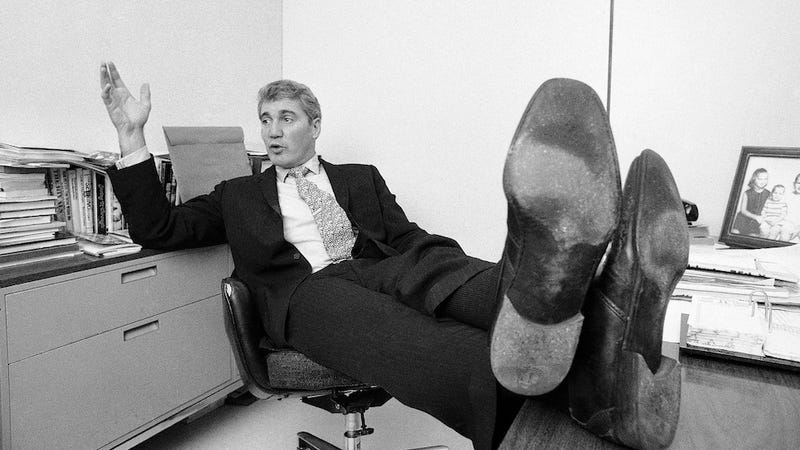 At my gym the other day, half of the television screens were showing an episode of Dr. Phil. You don't need me to tell you that Dr. Phil sucks, so I grabbed a magazine and went about the business of not looking at his big stupid head. But then I saw Pat Summerall in the studio with him and suddenly I couldn't look away.
There was no sound, but the closed captioning was on, so I read Summerall's dialogue as it scrolled across on those awkward black bars, like cheap labelmaker labels, many of the words bungled. Summerall was there to plug an old book of his and to offer his wisdom on the subject of "children of addicts." He talked about his now-legendary alcoholism, and the fact that he was an absentee father, and the fact that his daughter once told him she was ashamed to have the same name as him because he was such a shitty dad. You could see the regret on his face. Even years after sobering up, he still looked on the verge of tears talking about the damage he had inflicted.
We live in an age where it's awfully difficult to hide your vices. People drink and smoke and do drugs just as much as they used to, but doing it all on the downlow requires CIA-level training in covert tactics. Summerall grew up in the Golden Age of Alcoholism, where you could get away with downing a bottle of gin right before off heading to work because everyone was content to look the other way. No one looks the other way anymore. We look. I look. I don't think this reflects a negative change to our society. I'm just saying that it's harder to disguise your alcoholism when I've got my phone ready to snap a picture of you shitfaced with a cucumber up your ass. And it's really hard to try and disguise it, clumsily, over the course of many years, as Summerall did. People don't even want to hide it anymore, not when you can get a cool half-million for writing about it.