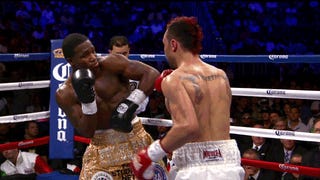 Imagine being a Brooklyn kid, born and raised in Brooklyn, representing Brooklyn, wearing "Brooklyn" clothes and yapping about Brooklyn! your whole life. And finally they build a big world-class stadium in Brooklyn, and you, the Brooklyn kid, get to headline a night of boxing there, and when you get off the train at Fulton Street to go to the fight, there's a big old poster of your face in the train station. This is some dream-come-true shit.
I mean, I doubt that Paulie Malignaggi took the G train to Barclay's Center on Saturday night. But he was the first (well, second actually) real Brooklyn fighter—a skinny, loudmouth, shit-talking Italian Brooklyn fighter—to actually headline a show at the new Brooklyn stadium (the inaugural boxing event there was headlined by a Mexican and a guy from Philly, for inexplicable reasons), and pride was in the air. The sun was shining. On Atlantic Avenue, Rastas were communing, and one guy sat up against a building all alone, playing a boombox with a smile. If Mike Tyson were fighting, it could have made you believe, just for a moment, that hip hop was alive again.
I wandered in a little after 7 p.m. and saw a fight already going on the TV in the press room. "Is this the first fight?" I asked. "Nah," said another reporter. "This is like the fifth fight." The event had started at an absurdly early afternoon hour, when most Paulie Malignaggi fans were probably just waking up after a night at the club. No matter. The earlier portion of the undercard consisted almost exclusively of poor souls from Alabama or Kansas or Minnesota who'd been shipped in to lose to New York prospects in the most devastating possible fashion.
The first real fight featured Julian "J-Rock" Williams, a prospect out of Philly, against Joachim Alcine, an aging Haitian on the downside of a respectable career. Alcine looked like a run-down Dwyane Wade, had Wade unwisely pursued boxing instead of basketball. The Vaseline smeared thickly onto his stubble gave him the appearance of a man who'd run out of the house too quickly after shaving. Alcine was knocked down four times in the first five rounds. That, apparently, was the recipe for enlivening him, and he came back to win the last couple of rounds on sheer pride and cussedness. After Williams was declared the victor, the hype man announcer shouted to crowd, "I got a J-Rock Williams autographed glove! Where the real J-Rock fans at??" They appeared to all be back in Philly.
Jovany "El Cepillo" Fuentes did not appear to be intimidated by his opponent, Rau'Shee Warren, a tiny, 117-pound two-time Olympian considered to be the future of the bantamweight class. Fuentes looked happy and jaunty in his silver gloves, and he spit out a huge cloud of water mist in his corner, like a small dragon. Then the fight started. "Show him what that speed like!" shouted Warren's friend, in the audience. So Warren shot a straight left hand to Fuentes's belly, popped back upright for a moment, like a prairie dog emerging from his hole, and then shot an identical straight left into Fuentes's face, putting him on his ass. In the next round Warren waded up to Fuentes's chest, tapped him twice on the belly, and then spun a twisting right hook directly into his temple, putting him on his ass again and ending the fight. That's what that speed is like.
The next 45 minutes were spent waiting idly for 9 p.m., when Showtime would go live. The hype man announcer interviewed the CEO of WorldStarHipHop.com from his seat in the stands, evidently on the premise that he was an important celebrity. The "Showtime Girls," looking like a high school cheerleading team in matching gray "Showtime" t-shirts, huddled together in the press room, looking nervous. The Brooklyn Nets' backboard and rim had been wheeled backstage and folded up by the ramp. I reached out and touched the gleaming NBA rim. That may be the last time that ever happens.
---
At long last, Sakio Bika entered the ring, to the strains of "Get Up, Stand Up." Bika is ripped, and strong, and throws 100 percent power shots—swinging hooks that sometimes spin him around. He comes to kill. Because of this, a careful boxer should be able to pick him apart. But that care must never flag over the course of 12 rounds, because it only takes a single Bika hook to sweep your head clear off your shoulders. His opponent, Marco Periban, was that careful. He fought brilliantly. He was not particularly fast, nor was he as strong as Bika, but he stood back and conserved his energy and waited for Bika to throw, and then countered ferociously. He shot his right hand over Bika's jab again and again. Because Bika threw only power shots, he was always a touch slower than Periban, who was willing to trade a bit of power for speed. Periban would often slip a hook and counter with a hard right hand to Bika's body—a tactic both effective and nerve-wracking, since each time it left him exposed to another left hook that might erase him. He would punch at the same as Bika, catching Bika coming in, and then keep punching after Bika had finished, nailing him once or twice more at the end of exchanges, another choice that was brave, and thrilling, and also carried with it the risk of doom. Unlike most cute little counterpunchers, he really committed, at great personal risk, to the "make em pay" part of the "Make em miss, make em pay" slogan. But Periban walked the razor's edge, round after round, always managing to stay just out of the way of the big overhand rights and wall-breaking left hooks that Bika aimed at him.
By the 12th round, both men could barely raise their arms, yet they stood close to each other and pushed punches at one another's heads up until the final bell, with Periban's balding trainer practically doing jumping jacks in the corner exhorting his man to keep punching. The entire stadium roared its approval. Periban lost a close decision. He'd just put on the best boxing performance of his life. I salute you, Marco. You are appreciated despite it all.
In a demonstration of the Reversion to the Mean principle, that rather spectacular fight was followed by a horribly boring heavyweight fight featuring not a tenth of the action. Seth Mitchell, a brawny former college football player considered one of the few real American heavyweight prospects, had lost his last fight to Jonathan Banks (who can fairly be labeled a "crafty veteran," though not a top contender) after getting too aggressive and catching a punch on the chin and losing his legs. It happens. But the lesson that Mitchell took from that experience was: be careful to the point of doing nothing. And so you had Mitchell, with all his bulk and power, circling cautiously and jabbing once in a while, scared to throw his powerful right hand even when he had his opponent cornered; and Banks, the smaller man, doing exactly what he did in the first fight, which was to circle, and wait for Mitchell to make a mistake so that he might land one well-placed counterpunch. Mitchell was too scared of Banks's skill. Banks was too scared of Mitchell's strength. You had two fighters who were unwilling to risk anything at all. This produced a wretchedly boring fight. When the fans began booing in the first round, I considered them gauche and impatient. When they were still booing in the final round, I had to admit they had a point. Mitchell won a decision, and a belt, under a torrent of boos. In the post-fight interview, he mentioned that his wife had had a stillbirth just two weeks ago; it would've been his third child. This did not stop the boos. It was all so horrible.
---
Forget it! Move on! On to the main event! In one corner, it's Adrien Broner, the next big thing in boxing! The Problem that Cannot Be Solved! The showy manchild positioning himself as Floyd Mayweather's one true successor! Broner strode to the ring next to a rapper declaring "Nigga I ain't worried 'bout nothing, nigga I ain't worried 'bout nothing." He wore a gold spangled warmup jacket and golden trunks and gold chains and a full top-and-bottom gold grill, which apparently is OK to wear during a fight. He was more golden than any fighter I've ever seen.