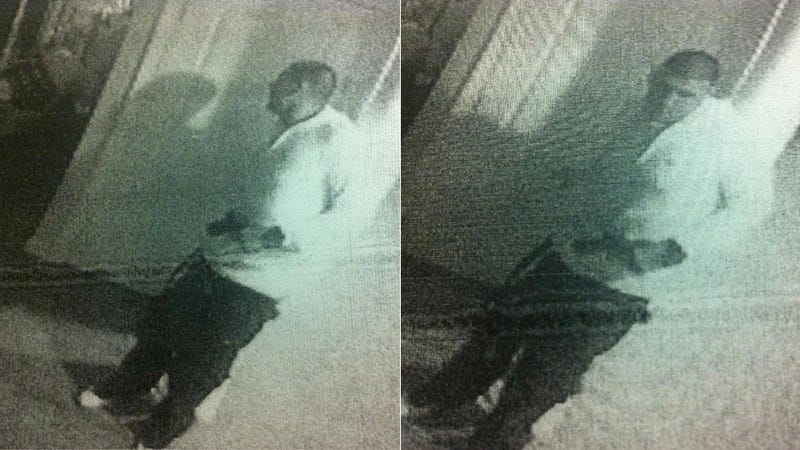 Attleboro District Court unsealed more documents today in the murder case against Aaron Hernandez. The most striking: a series of images from Hernandez's home surveillance system on the night of the murder, showing what prosecutors believe to be the gun that killed Odin Lloyd, a gun that has not yet been found.
Another 104 pages were released today—again at $1 per page for photocopies—and a number of reporters are going through the records as we speak. (We recommend Fox 25's Ted Daniel, the Globe's Brian Ballou, and the Courant's Jenny Wilson.) These records contain a mix of information we already knew, heavily redacted documents, and a number of poor-quality screengrabs from surveillance cameras.
Photos from surveillance footage show #Hernandez holding what prosecutors say is murder weapon pic.twitter.com/WiSAnzPXWT

— Jenny Wilson (@jennydwilson) July 25, 2013
Clearer photos taken from Hernandez's surveillance video. Look at left hand pic.twitter.com/tX6PNGFFrw

— Brian Ballou (@GlobeBallou) July 25, 2013
Another poor quality pic (photocopy) that allegedly shows AH and another night of murder. pic.twitter.com/N5seLJHe0F

— Ted Daniel (@TedDanielFOX25) July 25, 2013
Another one pic.twitter.com/hyZAyuP1SL

— Ted Daniel (@TedDanielFOX25) July 25, 2013
Keep in mind that these are cellphone camera shots of photocopies of screengrabs—prosecutors have access to much higher quality images.
These pictures are important, because Odin Lloyd was shot five times (including through the heart, as today's release reveals) with a .45 caliber weapon. That weapon has not been recovered. Police did find a magazine for a .45 caliber Glock pistol that is registered to Hernandez—and they believe that Glock is seen in these images.
Today's documents also reveal that Aaron Hernandez told police he did not have a contact number for Ernest Wallace, one of the other men who was allegedly involved in Lloyd's murder. Wallace's number was later found in Hernandez's phone.
Hernandez is due back in court for a probable cause hearing on Aug. 22.