ESPN on ABC's coverage of the thrilling final laps of yesterday's Indy 500 left many viewers upset, as Bristol's repeated coverage of the race leaders' significant others battled that of the actual racing. Here's a comparison of what ESPN aired versus video from the international feed.
Both lay viewers and columnists voiced their opposition to ESPN's use of a split-screen for Ryan Hunter-Reay's decisive pass that earned the Floridian his first Borg-Warner trophy:
That was piss poor coverage of great race by @ABCNetwork / @espn splitting the screen with the wife and girlfriend crap. #PissPoor #Indy500

— Richard Allen (@RacingWithRich) May 25, 2014
Awesome finish to #Indy500 ruined by ESPN/ABC's moronic split screen at end...to show wife & girlfriend of racers?? #indy500FAIL

— More Chainsaw (@MoreChainsaw) May 25, 2014
I don't watch Indy 500 to see how driver's wife/girlfriend feels. Don't reduce my big screen to split screen for final 3 laps of tight race.

— Dan Rieffer (@drieffer) May 25, 2014
ABC sports; Where showing you the wife/girlfriend of the race winner is more important than showing the actual Indy 500.

— Chris Watson (@WatsonTWCNews) May 25, 2014
The split screen meant that ESPN/ABC dedicated only a 478 x 275 window to the most important moment of the race. 85.7% of the screen was dedicated to something other than video of the racing.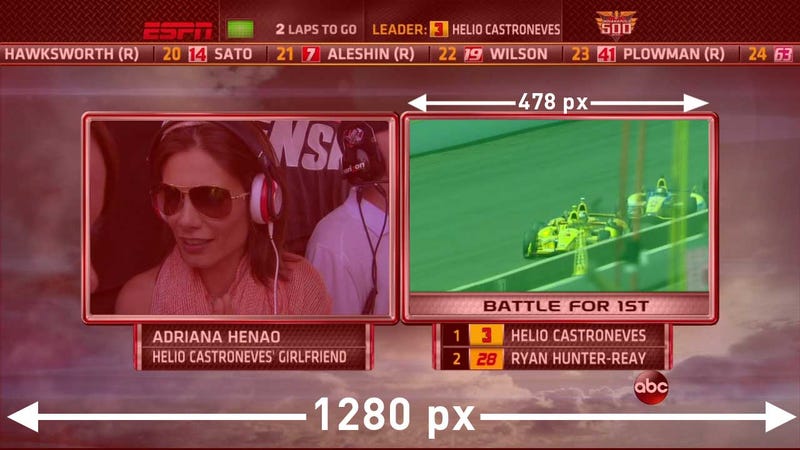 In the video above, you can see how viewers elsewhere on Earth saw the exciting finish. You don't see Ryan Hunter-Reay's wife until after the race is over, and you don't see Helio Castroneves's girlfriend at all. The U.S. coverage obsession with driver WAGs started, of course, with actress Ashley Judd. But she's no longer married to three-time 500 winner Dario Franchitti, and he's no longer racing. So maybe we can go back to filling the TV screen with racing?