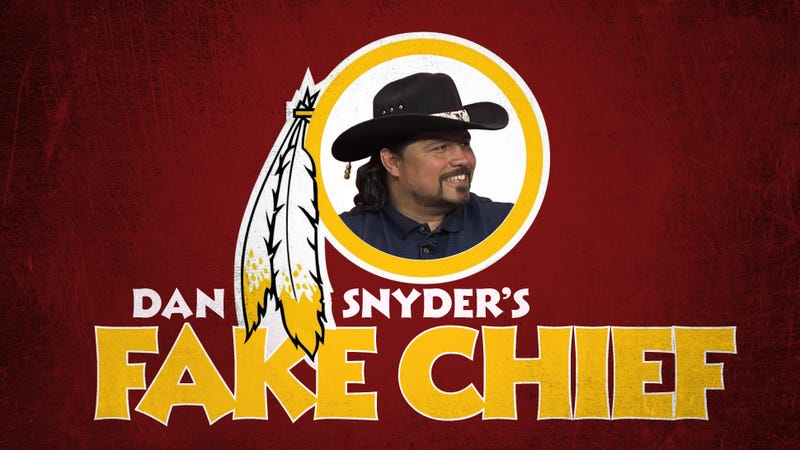 Lately, the Washington Redskins are having a harder time defending the team's name than the rest of the NFC East had defending the read-option last season. One of the more entertaining parts of Redskins owner Dan Snyder's effort has been his ongoing Indians-love-"Redskins" campaign, whereby the team calls attention to any high schools in tribal areas that don't hate the name, and to any Indian officials who are OK with it, too.
And perhaps the high point of this came with the May 3 broadcast of the Snyder-produced TV show Redskins Nation. The program featured a guest introduced as Chief Dodson, who was described in a press release written up by the Redskins PR department after the taping as "a full-blooded American Inuit chief originally from the Aleutian Tribes of Alaska" who "represents more than 700 remaining tribe members."
Dodson was an enthusiastic and earnest pitchman for the team's name, and he went further than management could have hoped—maybe too far, as we'll see. Dodson told the show's host, Redskins broadcasting boss Larry Michael, that his deceased father, Nigel Lindsay, was also a chief. Dodson said he felt compelled to step forward because he and his family were upset that "people are speaking for Native Americans that aren't Native American."
"Being a full-blooded Indian with my whole family behind me, we had a big problem with some of the things that were coming out [in the debate over the name]," he said. "I think they were basically saying that we were offended, our people were offended, and they were misrepresenting the Native American nation. We don't have a problem with [the name] at all—in fact we're honored. We're quite honored."
Dodson added that all the Indians he knows are fine with "redskins" even in a non-football context.
"It's actually a term of endearment that we would refer to each other as," Dodson said. "When we were on the reservation, we'd call each other, 'Hey, what's up, redskin?' We'd nickname it and call each other 'Skins.' We respected each other with that term. … It's not degrading in one bit."
Dodson got in a big pitch for his employer, Charley's Crane Service, a tow company headquartered in Landover, Md., very close to FedEx Field. (The tow company could use a plug: The Better Business Bureau has given Charley's Crane Service a grade of F because of consumer complaints and how they were handled.) And then Dodson went on to gush about the team's fight song, "Hail to the Redskins."
"That's a respectful thing," he told the show host. "A lot of people think that's a gimmick or a joke, a good song, but that's a respectful thing, and it's another thing that helps me appreciate everything you're doing." (The original version of "Hail to the Redskins" actually included a verse that contains what to the lay ear sure sounds like a shoo-in for the most racially offensive lyrics in the history of NFL fight songs: "Scalp 'em, swamp 'em! We will take 'em! Big score! / Read 'em, weep 'em! Touchdown! We want heap more!" Though stories differ on when the offensive lyric was removed, one account has team president Edward Bennett Williams ordering the song's scrubbing in the 1970s, during an earlier anti-name wave.)
Just days after Dodson's stint on his infomercial, Snyder, perhaps emboldened, gave USA Today a swaggering interview that included his most dogmatic comments on the name issue yet: "We'll never change the name," Snyder said. "It's that simple: NEVER—you can use caps."
The NFL's commissioner, trying to score points with Congress, leaned on the Redskins' too-good-to-be-true spokesmodel, too. On June 5, Roger Goodell wrote to the co-chairs of the Congressional Native American Caucus, whose members had been urging the team to change its name. On NFL letterhead, the league boss alleged that "Redskins" was "a unifying force that stands for strength, courage, pride and respect."
"Importantly, this positive meaning is shared by the overwhelming majority of football fans and Americans generally, including Native Americans," Goodell wrote. And as Exhibit A, Goodell cited the support of "Chief Steven (sic) Dodson," whom Goodell identified as "an American Inuit chief and resident of Prince Georges (sic) County, Maryland."