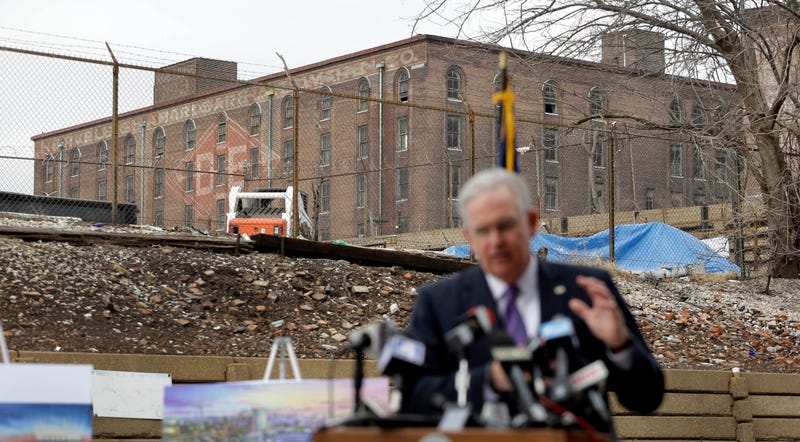 The quest to make St. Louis the site of America's next great stadium boondoggle continues unabated. The St. Louis Post-Dispatch reports that the public entity that controls the Rams' current home, the Edward Jones Dome, has sued the city of St. Louis to prevent a public vote on whether taxpayer money should be used to pay for a new Rams stadium.
The group that wants to keep the Rams in St. Louis—led by Missouri governor Jay Nixon—are facing a time crunch. Rams owner Stan Kroenke is moving full steam ahead with a plan to build a new stadium in Inglewood, California, with the Rams as the primary tenants. The NFL has consistently stated that they would prefer the Rams remain in St. Louis, but even more so they prefer their teams to play in new, publicly-funded stadiums.
Back in January, the group attempting to keep the Rams in St. Louis unveiled plans for a nearly billion dollar stadium in downtown St. Louis. The plan called for 50 percent of the financing for the stadium to come from the NFL and the Rams, with the other 50 coming from state, county, and city funds. But before either city or county funds can be committed to pay for professional sports facilities, there must be public votes. Via the Post-Dispatch:
St. Louis residents passed the ordinance in 2002 by nearly 10 percentage points — 55 percent to 45 percent. St. Louis County voters approved a similar measure two years later, 72 percent to 28 percent.

The laws — a municipal ordinance in the city and a charter amendment in the county — prohibit any "financial assistance" from the city and county to a professional sports facility without voter approval. They define "financial assistance" broadly, to include tax reduction, tax-increment financing, land preparation, loans, donations, payment of obligations, and the issuance, authorization, or guarantee of bonds.
The first attempt to sidestep these laws was taken last week, when the county of St. Louis was dropped from the financing plan, though it still isn't clear how their expected contribution will be made up. With no county financing, there will be no need for a county vote on financing. The next step is the one the St. Louis Regional Convention And Sports Complex Authority just took, to sue the city of St. Louis in an attempt to squirm out of a vote.