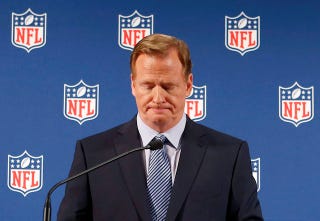 NFL commissioner Roger Goodell, from whom we hadn't heard in quite some time, addressed the media just now, first reading a long, boring statement and then spending a bit more than a half-hour saying nothing whatever of substance in answering questions from reporters. The general impression he gave was of a badly shaken man who knows full well that he's swimming well out of his depth; his basic message was, "I suck at my job ... now trust me."
Goodell began by stating that he "got it wrong on a number of levels" over the last few weeks, starting with his decision to suspend Ray Rice for just two games. Then came a smooth transition, assuring us that Robert Mueller's investigation into the league's handling of the Ray Rice case will be thorough. "We will get our own house in order."
He then transitioned into talking about how the NFL will start to "do more." The NFL has entered into a partnership with the National Domestic Violence Hotline and the National Sexual Violence Resource Center. "They need our help," said Goodell. "And we are providing it."
He also went on a bit about all the other bad behaviors that the NFL needs to be cracking down on. If you're looking for the dog whistle indicating that all this is leading toward the personal conduct policy getting more draconian and Goodell consolidating his power, here it is:
Fourth, we strongly, strongly condemn and will punish behavior that is totally unacceptable. Domestic violence, including child abuse, sexual assault, irresponsible ownership or handling of fire arms, the illegal use of alcohol or drugs. These activities must be condemned and stopped through education and discipline. Our standards and the consequences of falling short must be clear, consistent and current. They must be implemented through procedures that are fair and transparent. This is a central issue today.
Once again, Roger Goodell is just some guy with a B.A. in economics. The last thing we need is for him to view his failure in the Ray Rice case as an excuse to get tough in other areas.