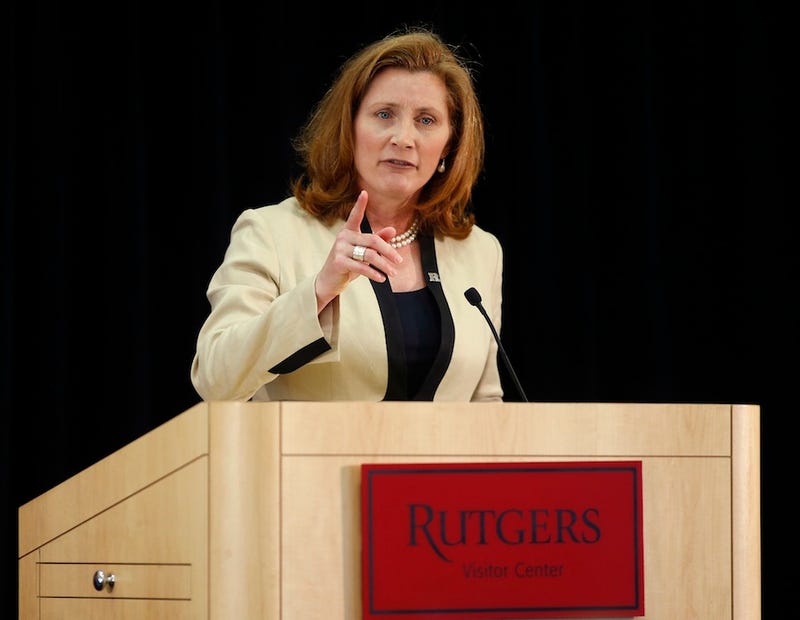 Rutgers has tried to clean up the Mike Rice/Tim Pernetti mess by introducing a new mess to distract everyone. The newly-hired athletic director Julie Hermann was involved in a lawsuit with a former assistant, Ginger Hineline, while head coach of the women's volleyball team at the University of Tennessee. Hineline alleged in the suit that she was fired for being pregnant. Unrelated to the suit, but in the process of properly vetting Hermann, The Newark Star Ledger also learned that Hermann had been accused of abusing her players.
Dealing first with the lawsuit—which settled out of court for $150,000—a central element was a video from Hineline's 1995 wedding where Hermann appears to make some fairly standard awful jokes into a wedding videographer's lens.
"I hope it's good tonight," she says into the camera. "Because I know you've been waiting for a while, but I hope it's not too good, because I don't want you to come back February with any surprises, you know, the office and all, and it would be hard to have a baby in there."
Hineline, both in the lawsuit and in a follow up interview with the Star Ledger, makes clear that they weren't just jokes, but part of an overall pattern of discouragement that eventually led to her termination when Hermann learned she was pregnant. Hermann claims she had planned to fire Hineline prior to learning of the pregnancy and it was a purely performance-based decision.
Lawsuits are lawsuits. Anyone can sue another person for any perceived grievance and hash it out in court. That this suit was settled out of court means nothing other than someone at Tennessee did a cost benefit analysis and decided paying $150,000 to make it go away was easier—financially and public relationally—than fighting it and potentially being found in the wrong. (Edit: the $150,000 was actually paid as a result of a jury verdict) What's scary about this lawsuit is not so much what it says about Hermann—even though the allegations are ugly and she basically lied her way through her introductory press conference at Rutgers, claiming not to have remembered the wedding where she was a bridesmaid and caught the bouquet and specifically denied the existence of the video tape—but rather what it says about Rutgers. The school did not even know about this whole thing until the search committee read about it in a paper.