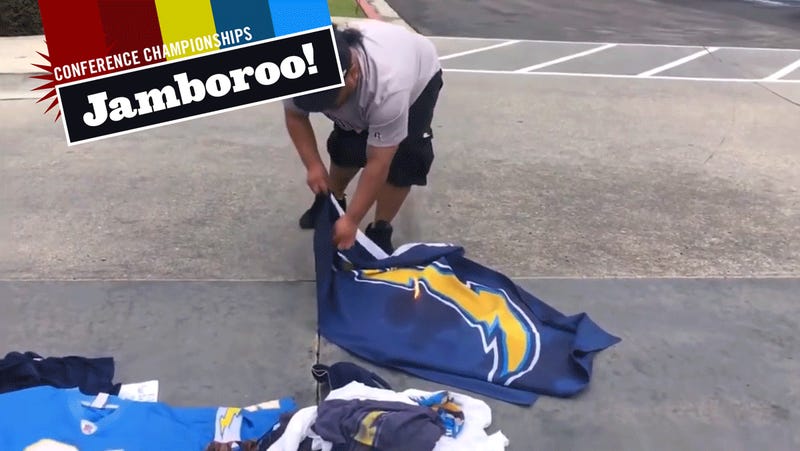 Drew Magary's Thursday Afternoon NFL Dick Joke Jamboroo runs every Thursday during the NFL season. Email Drew here. Buy his book here.

Johnny Unitas hated San Diego. After playing 17 years for the Colts, he was traded to the Chargers at the age of 40. Unitas, a big beer drinker, hated the fact that the Chargers players preferred weed (he called it "funny cigarettes") and pills instead. Back in the 70s, the Chargers purchased over ten THOUSAND pills a year in bulk, with coaches like Sid Gillman yelling at players to take the drugs to stay "big and strong."
Unitas hated that. He also hated his offensive coordinator, Bob Schnelker, and routinely gave rookie underling Dan Fouts advice that directly contradicted Schnelker's. Most of all, he hated the weather. The sun came out with a metronomic consistency that began to grate on him. He confided to writer Tex Maule, "We haven't even had a drizzle since we came to camp. I miss thundershowers."
Unitas lasted all of four games before getting benched for Fouts, and then headed back to Baltimore as fast as he could. Here was the nicest city in America, and all the greatest football player in history at the time wanted to do was leave it.
---
I root for a team that has a long and illustrious history of failure and I can tell you that, objectively speaking, there is a definite East Coast bias when it comes to ranking long-suffering fanbases. Have a look for yourself here, or here, or here. When it comes to pain, you will find Cleveland, and Buffalo, and Detroit, and a handful of other perennial sad-sack cities whose travails on the gridiron are often drawn in parallel with their greater socio-economic suffering. The Bills are fucking terrible, and their terrible-ness is supposedly exacerbated by life IN Buffalo, which has all the warmth and prosperity of an Antarctic whaling outpost.
San Diego, as you are constantly reminded, is not a shithole. It's sunny and temperate and everyone there is hot, and so it's easy for fans like me to dismiss the bitterness of Chargers fans because they can, like, go surfing if they want to.
But this is wrong. As pain goes, the Chargers have a resume that stacks up with pretty much anyone: Nate Kaeding, Ryan Leaf, trading a first-round pick to draft Bryan Still, trading ANOTHER to draft Mikhael Ricks, nine blown leads of 10-plus points in this decade alone, Marlon McCree fumbling his own interception in the playoffs against the Pats, losing at home in the playoffs to the Jets… TWICE (once to Herm Edwards and once to fucking Mark Sanchez), Craig Whelihan, Junior Seau killing himself, Eli refusing to play there (there!), Dr. David Chao, letting Drew Brees walk for nothing, Terrence Kiel's lean, LaDainian riding his exercise bike, and on and on. There was also the time where the Chargers were reduced to extras in the only Super Bowl they ever made… a 49-26 whomping at the hands of Steve Young and the 49ers that was preordained the moment San Diego won the AFC title.
I know a few Chargers fans. Their fatalism is no different than that of your average Jets fan, or Eagles fan, or any of their other northern NFL counterparts who know exactly when things will go wrong for their team, and how they will go wrong. And the Chargers' failures are just as traumatic for them as other teams' more notorious boners are for their fanbases.
And yet all of the Chargers miseries can't even compare to their final humiliation. When the Browns left Cleveland, they left behind the team colors and some small ray of hope that the franchise would return one day. (The hope turned out better than the reality of it.) When the Colts left Baltimore, they left behind arguably the richest history of any NFL team at the time, along with all those thundershowers for Johnny U to bask in. When the Rams left St. Louis, fans could at least look back at the Greatest Show On Turf and scrape together a few happy memories.
But the end of the Chargers is different. The Chargers leave San Diego an unfinished work. If you're an older fan, you still have memories of Air Coryell and the 1963 AFL title. But for younger fans, there's little more than a handful of fond memories that are soured by multiple tragedies, along with the realization that the San Diego Chargers never brought them ultimate glory, and now never can.